Rupert Brooke
Biography of Rupert Brooke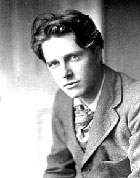 A man of great physical beauty by reputation, Rupert Brooke was born in Rugby, Warwickshire where he attended the local school. He then gained entry into King's College, Cambridge (1905-11) where he became a Fellow in 1912. He travelled extensively and wrote many travel letters for the 'Westminster Gazette', London (1912-13). At the start of the First World War in 1914, he was assigned to the Royal Naval Volunteer Reserve. He saw action at Antwerp which inspired the writing of five passionately patriotic sonnets, the last of them being The Soldier. He was at the height of his fame when he died during the war aged twenty-seven. He had been on his way to serve in the Dardanelles when he died of blood poisoning at Scyros and was buried there.
This page is based on the copyrighted Wikipedia Rupert Brooke; it is used under the Creative Commons Attribution-ShareAlike 3.0 Unported License. You may redistribute it, verbatim or modified, providing that you comply with the terms of the CC-BY-SA.
Safety
Dear! of all happy in the hour, most blest
He who has found our hid security,
Assured in the dark tides of the world that rest,
And heard our word, 'Who is so safe as we?'
We have found safety with all things undying,
The winds, and morning, tears of men and mirth,
The deep night, and birds singing, and clouds flying,
And sleep, and freedom, and the autumnal earth.
We have built a house that is not for Time's throwing.