Russell Edson
Biography of Russell Edson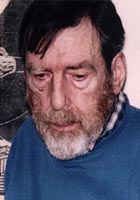 Russell Edson (1935 – April 29, 2014) was an American poet, novelist, writer and illustrator, and the son of the cartoonist-screenwriter Gus Edson.

He studied art early in life and attended the Art Students League as a teenager. He began publishing poetry in the 1960s. His honors as a poet include a Guggenheim fellowship,a Whiting Award, and several fellowships from the National Endowment for the Arts.

Edson published numerous collections of prose poetry, short stories and fables, one novel, The Song of Percival Peacock, and The Falling Sickness: A Book of Plays. His final book was See Jack (University of Pittsburgh Press, 2009).

He lived in Darien, Connecticut with his wife Frances.
One Lonely Afternoon
Since the fern can't go to the sink for a drink of
water, I graciously submit myself to the task, bringing two
glasses from the sink.
And so we sit, the fern and I, sipping water together.


Of course I'm more complex than a fern, full of deep
thoughts as I am. But I lay this aside for the easy company
of an afternoon friendship.