Sally DeSmet Trueblood
Sally DeSmet Trueblood
(Born August 25 / Nashville, Tennessee)
Biography of Sally DeSmet Trueblood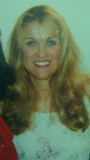 I was born in Nashville, the daughter of a military man which afforded me to move around a lot. I have always enjoyed writing, and have dabbled in it through work in editing and such things.

I mainly enjoy writing for pleasure, expression, or as a way to relieve the stresses of life. Now that my children are raised, I would like to carve out more time to pursue my writing. I'm on this odd journey to try to find this little spot for me to sit and do what I enjoy. Life keeps getting in the way, and I'm trying to find a way to merge these colliding forces.

For now, I suppose I am grateful to say that at least I am on that journey......
The Last Leaf To Fall
When the last leaf has tiptoed down from the security of its shapely branch, lightly spinning without destiny,
to the company of the early leaves that passed before,
it takes its place on the cold dark ground.
Who among us knows that it clung tighter, stayed longer,
and didn't want to give up the security of the shapely strong branch.

Now its there among the other leaves, vast, dense, and lost,
and as the winds scatter all the leaves away from the security of
the stately tree,