Sally DeSmet Trueblood
Sally DeSmet Trueblood
(Born August 25 / Nashville, Tennessee)
Biography of Sally DeSmet Trueblood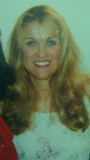 I was born in Nashville, the daughter of a military man which afforded me to move around a lot. I have always enjoyed writing, and have dabbled in it through work in editing and such things.

I mainly enjoy writing for pleasure, expression, or as a way to relieve the stresses of life. Now that my children are raised, I would like to carve out more time to pursue my writing. I'm on this odd journey to try to find this little spot for me to sit and do what I enjoy. Life keeps getting in the way, and I'm trying to find a way to merge these colliding forces.

For now, I suppose I am grateful to say that at least I am on that journey......
Growing Up
Your world at six was a carousel of pure gold.
Smitten with grassy parks, make-believe toys, and puppies to hold.

Life at six was a circus of days seized with unbridled glee,
And nights held off by the command of a child's mind carefree.

Your world at ten was a merry-go-round of leisure and books.
The ups and downs of lofty dreams and trips you took.