Sam Hamill
Biography of Sam Hamill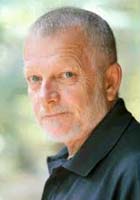 Sam Hamill is an American poet and the co-founder of Copper Canyon Press along with Bill O'Daly and Tree Swenson. He is also the initiator of the Poets Against War movement (2003), which he set up in response to the Iraq War.
Hamill has been awarded the Stanley Lindberg Lifetime Achievement Award for Editing and the Washington Poets Association Lifetime Achievement Award.
What the Water Knows
What the mouth sings, the soul must learn to forgive.
A rat's as moral as a monk in the eyes of the real world.
Still, the heart is a river
pouring from itself, a river that cannot be crossed.

It opens on a bay
and turns back upon itself as the tide comes in,
it carries the cry of the loon and the salts
of the unutterably human.