Samarth Ramdas
Samarth Ramdas
(1608 – 1681 / Jamb, Jalna District, Maharashtra, India)
Biography of Samarth Ramdas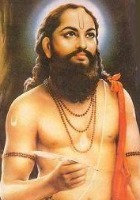 Ramdas (Marathi: समर्थ रामदास, Rāmdās) was a prominent Marathi saint and religious poet in the Hindu tradition in Maharashtra, India. Samarth Ramdas was a devotee of Lord Hanuman and Lord Rama. His birth name was Narayan Suryajipant Kulkarni Thosar.

Early Life

Ramdas Swami was born in a Deshastha Rugvedi Bramhan family to Suryāji and Rānu-Bāi Thosar in Jāmb in Jalna District of Maharashtra on Ram Navami (the birth festival of Lord Ram), 1530 according to "Shāliwāhan Shak" calendar. His given name was Nārāyan.

As a child, Ramdas showed an inclination toward metaphysical contemplation and religion. When Ramdas was eight, his father died; and when he was 18, his mother arranged his marriage. However, he wanted to pursue a monastic life. He ran away in the middle of the wedding ceremony, before the marriage ceremony was completed.

During the Hindu marriage ceremony, the last word which seals the marriage is "Saavdhan" meaning, 'be careful'. Swami Ramdas interpreted that word to mean that he had to be careful not to get entangled in the bonds of Maya, and must seek Self realization.

Residences

Ramdas moved around quite a lot, and in the process, used several Ghal (Marathi: घळ), which are small caves used for meditation. The famous ones include:

Ramghal, on Sajjangad
Morghal, at Morbag village near Sajjangad
Tondoshi Ghal, North of Chaphal
TaakLi, near Nashik
Chandragiri, opposite Vasantgad, near Karad
Helwak, near Helwak village
Shiganwadi, near Chandragiri
Shivthar Ghal, near Mahad

Spiritual Development

For the next twelve years, Ramdas devoted himself to studying Hindu religious books, to meditation, and to prayers in a place named Panchavati, near Nashik on the banks of the Godavari River. At age 24 he took the name "Ramdas", meaning "servant of Lord Ram," an incarnation of God.

Ramdas practised physical yoga exercises as well as meditation. The Surya Namaskara or Sun Salutation was his favourite as it involves every part of the body. It is said that he would do 1,200 Sun Salutations every day, believing that no spirituality could be attained if the physical body was not strong.

In addition to his veneration of Ram, Ramdas worshipped Ram's divinely strong servant Lord Hanuman. He established 11 temples of Hanuman in Maharashtra and promoted physical exercise to develop a healthy society.

Writings

Ramdas Swami was a gifted composer. He produced considerable literature in verse form in Marathi. Among his works, two compositions particularly stand out: A small book of meditations, Shri Manāche Shlok, advises ethical behaviour and love for God, and a large volume, Dasbodh, provides advice on both spiritual and practical topics. Apart from Dasbodh, Ramdas also wrote the Shri Māruti Stotra, a poem in praise of Hanuman, the AatmaaRaam, 11-Laghu Kavita and Raamayan (Marathi-Teeka).

His most popular composition is the Marathi Aarti to Lord Ganesh Sukhkartā Dukhhartā Vārtā Vighnāchi. He also composed several other Aartis such as Satrane Uddane Hunkaar Vadani to Lord Hanuman and Panchanan haivahan surabhushan lila to Lord Khandoba.

Disciples

Samarth Ramdas had many disciples.Kalyan Swami worked as a writer for Ramdas, recording his songs and prayers. Ramdas tested him in many ways before giving him this responsible position. Other noteworthy disciples included
Kalyan Swami
Udhhaw Swami
Vena Swami
Akka Bai
Bhim Swami
Diwakar Swami
Dinkar Swami
Anant Buwa Ramdasi - Methavadekar

It is said that Shivaji Maharaj requested Shri Ramdas swami to move his residence to a fort named Parali & establish his permanent monastery there. (But there are no any written proofs). The fort was subsequently renamed Sajjangad (सज्जनगड) - Fort of the sacred.

In the 20th century, Nana Dharmadhikari, Dattatreya Dharmadhikari and Sachin Dharmadhikari have undertaken to spread the philosophy of Samarth Ramdas.
This page is based on the copyrighted Wikipedia Samarth Ramdas; it is used under the Creative Commons Attribution-ShareAlike 3.0 Unported License. You may redistribute it, verbatim or modified, providing that you comply with the terms of the CC-BY-SA.