Sandra Martyres
Sandra Martyres
(5th October / Mumbai - India)
Biography of Sandra Martyres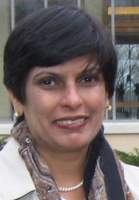 I hold a Master's Degree in Economics and work for an International Financial Institution. I enjoy writing Poetry more as a hobby, a form of expression and relaxation. Other interests include Reading, Philately, Theatre and Travelling.
Dad
Dad, we watched you wither away
All of eighty kilos by night and day
The one and only saving grace,
Was your ever smiling face.
While we reached the depths of despair,
You calmly declared that life was not always fair.

Despite the breathlessness and the pain,
Never did you really complain.