Sarah Stetler
Sarah Stetler
(may15 / alaska)
Biography of Sarah Stetler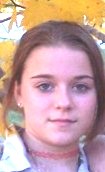 i currently live in atlanta the city that never sleeps and am currently into writing songs in particular. i am engaged to a wonderful man by the name of John Spargo. i am 18 and live with my mother and father aswell as my nephew Enrique and my oldest sister Olivia.I hope to attend georgia gwinnett college in the fall of 2010.
The Way Things Were.....
Sometimes i feel as though we as people do not communicate as much as we should!
And this is just the way things are. everyone knows what bush will do next and no-one tells.
And thats just the way things are. we all have fallin' in love before but no-one feels that its the next person's buisness and that's not the way things should be but it truly is just the way things are.