Saut Situmorang
Saut Situmorang
(29 June 1966 / Tebing Tinggi, North Sumatra, Indonesia)
Biography of Saut Situmorang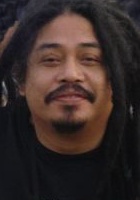 I am an Indonesian poet, short story writer and essayist and living as a full-time writer now in Yogyakarta, Central Java, Indonesia. I spent eleven years from 1989 to 2000 living as an immigrant in New Zealand where I was also actively involved in the underground poetry scene of Wellington and Auckland.

Saut Situmorang's Works:

My poetry, stories and essays on literature, visual arts and film have been published in more than twenty anthologies in Indonesia, New Zealand and Australia. Also in the newspapers and magazines all over Indonesia and on Indonesia-related blogs and mailing-lists. I have published three books of my own poems in Indonesia: 'little saut talks to god' (2003) , 'subversive notes' (2004) , and 'autobiography' (2007) .
The Agony Of Words
bismillah!
don't run away my alphabet,
don't!
my abc
my xyz
come! come!
o come my alpha
my omega!
colour of the rainbow