Sayeed Abubakar
Sayeed Abubakar
(21 September 1972 / Jessore / Bangladesh)
Biography of Sayeed Abubakar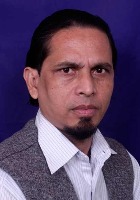 Sayeed Abubakar, a contemporary poet of Bangladesh, is regarded as the major poet of the 90th decade. He was born on September 21,1972 at Rambhodrapur, Panjia under Keshabpur upazila of Jessore district, Bangladesh. His father was Nur Mohammad Biswas, a renowned social worker and mother was Amena Khatun, a devoted homemaker.

Literary Life:

Sayeed Abubakar started writing poems at a very early age. He was then only 11. Many of those poems were published in the local newspapers such as `The Daily Sphulingo' and `The Daily Ranar'. In those days he used to compose 60-70 poems every day, for he was determined to defeat Rabindranath Tagore by the number of poems. Reason is that Rabindranath started writing poems at his 8 years and Sayeed Abubakar started at his 11 years. Really it was a peculiar silly attempt of a young poet. Later he realized his mistake. But it helped him to be skilled both in rhymes and rhythm at the early stage of his life.

He did not stop running after poems ever. Actually poetry got mixed with his blood and soul. As a student, he was very brilliant. He passed his School Secondary Certificate(SSC) and Higher Secondary Certificate(HSC) examinations in First Division in 1987 and 1989 respectively. He obtained BA(Honours) in English Literature in 1992 and MA in English Literature in 1993 from Rajshahi University successfully. Just after completing his student life, he joined the popular national fortnightly magazine `Palabadal' as a sub-editor. He edited this literary magazine from 1998 to 1999. Suddenly he left Dhaka city for Chittagong to join Faujdarhat Cadet College as a lecturer of English. The hills and the Bay of Bengal attracted the poet very much but the strict routine-bound life of cadet college did not suit him. He left Faujdarhat Cadet College in 2003 and joined Govt. Lalon Shah College passing the prestigious BCS examination. He is now an assistant professor of English working at Sirajganj Govt. College, Sirajganj. But not a single day he forgot his mission of writing poetry.

In national daily his poem was first published in 1988. Then he was a student of class XI at BL Govt. College in Khulna. While in Rajshahi University, he completed composing some of his best lyrics. All those were published then in all the most popular national newspapers and national magazines like the Ittefaq, the Sangbad, the Dainik Bangla, the Inqilab, the Pakkhik Shoily, the Sachitra Bangladesh etc. His first book of poetry `Pranoyer Prathom Pap'(First Sin of Love) was published in 1996. It attracted the attention of the famous living poets. This very book made him famous as a poet in Bangladesh. The second edition of `Pranoyer Prathom Pap' was published in 2008. Now he has eight books of poetry in the market. Many of his poems have been translated in English and Spanish.

The famous publishing Company of USA, I-Proclaim Press, published his two books named 'Anthology of the World Poetry' and 'The Golden Kabin' (Translation of Al Mahmud's 'Sonali Kabin') in 2010. The famous publication of UK, Bubok, has published his 'Selected Poems: 2010-2012'in 2013.

He is the editor of an English little magazine named 'Bangla Literature'. Modern Bengali literature is presented here in English for the world readers.

Poet Syed Ali Ahsan, Syed Ali Ashraf, Al Mahmud, Abdul Mannan Syed, Nazib Wadud, Mohammad Safi, Hasan Alim, Khurshid Alam Babu, Abdul Halim Kha, Mokbul Mahfuz, Taufik Zahur, Dr Fazlul Haq Tuhin, Ahmad Basir, Hosne Ara Beauty, Shahin Saikat and others have written articles on this great poet. Al Mahmud has written essays two times on this poet, which is a rare incident in the field of modern Bengali poetry. Poet Al Mahmud in one of his essays written on Sayeed Abubakar says: 'I got surprised while reading his poems published in newspapers.' Abdul Mannan Syed says, 'Sayeed Abubakar is a real poet from top to toe.' Once reading his first book `Pranoyer Prathom Pap' poet Khurshid Alam Babu had declared in one of his easays: 'It is high time we declared that Sayeed Abubakar is the greatest young poet of Bangladesh.'

Awards:

1. Shabdoshilon Award 2008
2. Lalon Award 2009
3. Panjia Sahitya Sommelon Sommanona 2010
4. Challish Bachhar Purtite Utsanga Srijan Chintan Sammanona 2012
5. Sristishil Lekhoksongho Sammanona 2014
6. DCL Literary Award 2015
7. Banglar Kabita O Sahitta Forum Award 2015 [taken from the hands of Finance Minister of People's Republic of Bangladesh Abul Maal Abdul Muhith.]
8. Syed Ali Ahsan CNC Award 2017

- - - - - - - - - - - - - - - -
Biography in Spanish Language:
- - - - - - - - - - - - - - - -

Breve biografia de Sayeed Abubakar


Sayeed Abubakar, es hijo de Nur Mohammad Biswas y de Amena Khatum, nacio el 21 de Septiembre de 1972 en Rambhodrapur bajo Keshabpur upazilla del distrito Jessore en Bangladesh

Vida Literaria

Sayeed Abubakar comenzo a escribir poemas a la temprana edad de 11 años. Muchos de estos fueron publicados en periódicos locales como El Diario de Suhulingo y El Diario de Ranar. En ese entonces componia de 60 a 70 poemas diarios ya que estaba determinado a vencer al poeta Rabindranath Tagore en el numero de poemas. Esto realmente era un capricho de un joven poeta, tiempo despues se dio cuenta de que era un error pero esto le ayudo a aquirir habilidades en rima y ritmo durante esta temprana etapa de su vida.

El nunca paro de escribir poemas, actualmente la poesía es parte de su sangre y a su alma. El fue un estudiante brillante, prueba de esto fue que aprovo sus exámenes SSC y HSC en primer lugar en 1987 y 1989 respectivamente. Despues obtuvo con honores su BA en Literatura Inglesa en 1992 y su Maestria en Literatura Inglesa en 1993 en la Universidad de Rajshahi. Despues se unió a la popular y nacional publicación quincenal Palabadal como sub editor. El edito su revista literaria de 1998 a 1999. Entonces dejo la ciudad de Dhaka para ir a la ciudad de Chittagong donde se unión al Colegio de cadetes Faujdarhat como profesor de Ingles. Las colinas y la bahía de Bengal eran sumamente atractivas para el poeta pero no asi la estricta rutina de la vidad del colegio de cadetes por lo que dejo en 2003 para unirse al Colegio de Gobierno Lalon Shah aprobando el prestigioso examen BCS. Hoy en dia es Profresor asistente de Ingles y trabaja en el Colegio de Gobierno Sirajganj pero ni por un solo dia olvido la misión de escribir poesía.

Su primer poema publicado en un diario nacional fue en 1988. En ese entonces era estudiante de la clase XI en el Colegio de Gobierno BL en Khulna. En la Universidad de Rajshahi termino de escribir algunas de sus mejores liricas. Todos estos trabajos fuerson publicados en algunos de los periódicos y revistas nacionales mas populares como El Ittefaq, El Sangbad, El Dainik Bancla, El Iniquilab, El Pakkhik Shoily, El Sachitra Bangladesh, etc. Su primer libro de poesica se titulo Pranoyer Prathom Pap (El primer pecado de amor) y fue publicado en 1996 el cual llamo la atención de muchos famosos poetas y lo convirtió en un famoso poeta en Bangladesh. La segunda edición de su libro fue publicada en el 2008. Ahora tiene siete libros de poesía publicados y muchos de sus poemas han sido traducidos al Ingles y al Español.

La famosa editorial Estadounidense I-Proclaim Press publico dos de sus libros titulados Anthology of the World Poetry (Antologia de la Poesia Mundial) y The Golden Kabin (El Kabin Dorado) traducido por Al Mahmud`s ´Sonali Kabin´ en 2010. La famosa editorial Britanica Bubok publico su libro Selected Poems (Poemas Selectos) en 2010,2012 y 2013.

Es editor de una pequeña revista en Ingles llamada Bangla Literature (Literatura Bangla) .

Algunos poetas como Syed Ali Ahsan, Syed Ali Ashraf, Al Mahmud, Abdul Mannan Syed, Hasan Alim, Khurshid Alam Babu, Taufik Zahur, Dr Fazlul Haq Tuhin, Ahmad Basir y Hosne Ara Beauty entre otros han escrito articulos acerca de este gran poeta. Al Mahmud ha escrito en dos ocasiones acerca del poeta lo que es un raro incidente en la moderna poesia Bangla. Al mahmud en uno de sus ensayos acerca de Sayeed Abubakar dijo: "Me sorprendi mientras leia sus poemas publicados en los periódicos". Abdul Mannan Syed dijo: "Sayeed Abubakar es realmente un poeta de pies a cabeza". Khurshid alam Babu dijo: "Este es un gran tiempo para declarar que Sayeed Abubakar es el mejor poeta joven de Bangladesh".

Premios
• Shabdoshilon Award [2008]
• Lalon Padak [2009]
• Panjia Sahitya Sommelon Sommanona [2010]
• Challish Bachhar Purtite Kabi Sayeed Abubakarke Utsanga Srijan Chintan Sammanona [2012]

Sayeed Abubakar's Works:

Poetry:
1. Pranoyer Prothom Pap(First Sin of Love) [1996, Palabadal Publication, Fakirapool, Dhaka; 2nd edition 2008, Ittadi Grantha Prakash, Bangla Bazar, Dhaka]
2.Julekhar Shes Jal(Last Trap of Julekha) [2004, Palabadal Publication, Fakirapool, Dhaka; 2nd edition 2011, Parilekh, Rajshahi]
3. Sada Andhokarey Kalo Josnai(Into White Darkness and Black Moonlight) [2006, Ittadi Grantha Prakash, Bangla Bazar, Dhaka]
4. Mesopotemiar Mme(Mme of Mesopotemia) [2007, Parilekh, Rajshahi]
5. Bongatey Bosoti(Dwelling in Bengal) [2008, Ittadi Grantha Prakash, Bangla Bazar, Dhaka]
6. Ebar Ektibar Eksathey(Now Altogether for Once) [2010, Ittadi Grantha Prakash, Bangla Bazar, Dhaka]
7. Kapatakkha Parer Roddur(Sunrays on the Banks of the Kapatakkha) [2012, Ittadi Grantha Prakash, Bangla Bazar, Dhaka]
8. Kagoj Kusum(Paper-flowers) [2014, Mahakal, Bangla Bazar, Dhaka]
9. Tumi Balo Tumi Bristi Valobaso [2015, Parilekh, Rajshahi]
10. Shrestha Kabita [2015, Ittadi Grantha Prakash, Bangla Bazar, Dhaka]
11. Amar Kothao Jaoar Nei(I Have Nowhere to Go) [2017, Ittadi Grantha Prakash, Bangla Bazar, Dhaka]
12. Selected Poems: 2010-2012 [2013, Bubok, UK]
13. Poemas de Sayeed Abubakar: un Poeta Bengali[Sayeed Abubakar's poems in Spanish translated by Lorena Lopez Velazquez] [2013, Bubok, UK]

Prose:
1. Kabita Kamal (Lotus of Poetry) [2006, Ittadi Grantha Prakash, Bangla Bazar, Dhaka]]
2. Kabitar Adhunikata (Modernity of Poetry) [2010, Siddikia Publications, Bangla Bazar, Dhaka].

Children Literature:
1. Chharachhari [2009, Parilekh, Rajshahi]

Translation:
1. Modhusudoner Engreji Kabita [2009, Bhumika, Bangla Bazar, Dhaka]
2. The Golden Kabin(Translation of Al Mahmud's 'Sonali Kabin') [2010, I-Proclaim Press, USA]
3. Vinna Vasar Shrestha Galpo [2014, Mahakal, Dhaka]

Editing:
1. Adhunik Bangla Kabita [2009, Ittadi Grantha Prakash, Bangla Bazar, Dhaka]
2. Anthology of the World Poetry [2010, I-Proclaim Press, USA]

Little Magazine:
Bangla Literature [1st Issue, February 2011]
Bangla Literature [2nd Issue, April 2012]

- - - - - - - - - - - - - -
In Spanish Language:
- - - - - - - - - - - - - -
Libros Publicados

Poesia
•Pronoyer Prothom Pap (Primer Pecado de Amor) [1996, Palabadal Publicaciones, Fakirapool, Dhaka; 2da Edicion 2008, Ittadi Grantha Prakash, Bangla Bazar, Dhaka]

•Julekhar Shes Jal (La ultima trampa de Julekha) [2004, Palabadal Publicaciones, Fakirapool, Dhaka; 2da edicion 2011, Parilekh, Rajshahi]

•Sada Andhokarey Kalo Josnai (Dentro de la blanca oscuridad y la negra luz de luna) [2006, Ittadi Grantha Prakash, Bangla Bazar, Dhaka]

•Mesopotemiar Mme (La señora the Mesopotamia) [2007, Parilekh, Rajshahi]

•Bongatey Bosoti (Morando en Bengal) [2008, Ittadi Grantha Prakash, Bangla Bazar, Dhaka]

•Ebar Ektibar Eksathey (Ahora Todos estamos juntos) [2010, Ittadi Grantha Prakash, Bangla Bazar, Dhaka]

•Kapatakkha Parer Roddur (Los rayos del sol a orillas de Kapatakkha) [2012, Ittadi Grantha Prakash, Bangla Bazar, Dhaka]

•Poemas Selectos: 2010-2012 [2013, Bubok, Reino Unido]

Prosa
•Kabita Kamal (The Lily of Poetry) [2006, Ittadi Grantha Prakash, Bangla Bazar, Dhaka]

•Kabitar Adhunikata (La modernidad de la poesia) [2010, Siddikia Publicaciones, Bangla Bazar, Dhaka].

Libros para niños
•Chharachhari [2009, Parilekh, Rajshahi]

Traducciones
•Modhusudiner Engreji Kabita (English Poems of Modhusudon) [2009, Bhumika, Bangla Bazar, Dhaka]

•El Compromiso Dorado (Traduccion de Al Mahmud's 'Sonali Kabin') [2010, I-Proclaim Publicaciones, Estados Unidos]

Como Editor
•Adhunik Bangla Kabita (Modern Bengali Poetry) [2009, Ittadi Grantha Prakash, Bangla Bazar, Dhaka]

•Antologia de la Poesia Mundial [2010, I-Proclaim Editorial, Estados Unidos]

Pequeñas Revistas
•Literatura Bangla [ Primera Emision, Febrero 2011]
•Literatura Bangla [Segunda Emision, Abril 2012]
This page is based on the copyrighted Wikipedia Sayeed Abubakar; it is used under the Creative Commons Attribution-ShareAlike 3.0 Unported License. You may redistribute it, verbatim or modified, providing that you comply with the terms of the CC-BY-SA.
We The Lovers
The more a fish enters into the depth of water,
the more it feels happy.
The sun feels happy
when it shines fully in the sky.
The more a tree is rooted into soil,
the more it feels happy.
And we the lovers feel happy
when we cry aloud for our beloved.