Sayeed Abubakar
Sayeed Abubakar
(21 September 1972 / Jessore / Bangladesh)
Biography of Sayeed Abubakar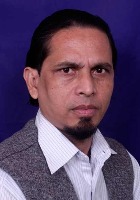 Sayeed Abubakar, a modern epic-poet of Bengali language, was born on September 21,1972 in Jashore, Bangladesh. He is regarded as the major poet of 90th decade. His father was Nur Mohammad Biswas and mother Amena Khatun. He obtained Honours and Masters degree in English from Rajshahi University. He married Alimun Nahar Fatema in 1998 and they are now proud parents of two daughters and one son namely Humaira Tasnim, Maimuna Tasnim Nusaiba and Shish Mohammad. He is now working as an Associate Professor of English in Directorate of Secondary and Higher Education Bangladesh, Dhaka.

Literary Life:

Sayeed Abubakar started writing poems at a very early age. He was only 11 then. Many of those poems were published in the local newspapers of Jessore and Khulna namely `The Daily Sphulingo', 'The Daily Ranar', 'The Daily Purbanchal', 'The Daily Janmabhumi' and so on. He used to compose 60-70 poems every day, for he was determined to defeat Rabindranath Tagore by the number of poems. Reason is that Rabindranath started composing poems at his 8 and Sayeed Abubakar at his 11. Really it was a peculiar type of silly attempt of a young poet. Later, he realized his mistake. But it helped him to be skilled both in rhymes and rhythm at the early stage of his life.

His poem was first published in any national daily newspaper in 1988. It was the Daily Ittefaq, the most popular newspaper of that time. He was then a student of class XI at BL Govt. College in Khulna. While in Rajshahi University, he completed composing some of his best lyric-poems. All those were published in the most popular national newspapers and national literary journals such as the Ittefaq, the Sangbad, the Dainik Bangla, the Inqilab, the Pakkhik Shoily, the Sachitra Bangladesh and so on. His first collection of poems `Pranoyer Prathom Pap' First Sin of Love was published in 1996. It attracted the attention of the famous living poets of Bangladsesh and made him famous as a poet. The second edition of `Pranoyer Prathom Pap' was published in 2008. Now he has 13 collections of poems including his " Shrestha Kabita" Best Poems [2015]. His poems have been published in many languages such as English, Spanish, Chinese, Russian, Arabic, Persian and Odia.

He is the editor of 'Bangla Literature', the only English literary journal in Bangladesh.

He was given many literary awards for his contribution to literature such as Shabdoshilon Award 2008, Lalon Award 2009, Panjia Sahitya Sommelon Sommanona 2010, Utsanga Srijan Chintan Sammanona 2012, Sristishil Lekhoksongho Sammanona 2014, DCL Literary Award 2015, Banglar Kabita O Sahitta Forum Award 2015, Syed Ali Ahsan Award 2017, Rock Pebbles International Literary Award 2017 Bhuvaneswar, India, Porichoi Literary Award 2017, Desoj Literary Award 2017, Bhasa Smarok 2018 Uttar Kolkata Bangla Bhasa Chorchakendra, Kolkata-700 009.

Sayeed Abubakar's Works:

Poetry:

1. Pranoyer Prothom Pap [First Sin of Love] [1996, Palabadal Publication, Fakirapool, Dhaka; 2nd edition 2008, Ittadi Grantha Prakash, Bangla Bazar, Dhaka]
2.Julekhar Shes Jal [Last Trap of Julaikha] [2004, Palabadal Publication, Fakirapool, Dhaka; 2nd edition 2011, Parilekh, Rajshahi]
3. Sada Andhokarey Kalo Josnai ]Into White Darkness and Black Moonlight] [2006, Ittadi Grantha Prakash, Bangla Bazar, Dhaka]
4. Mesopotemiar Mme [Mme of Mesopotemia] [2007, Parilekh, Rajshahi]
5. Bongatey Bosoti [Dwelling in Bengal] [2008, Ittadi Grantha Prakash, Bangla Bazar, Dhaka]
6. Ebar Ektibar Eksathey [Now Altogether for Once] [2010, Ittadi Grantha Prakash, Bangla Bazar, Dhaka]
7. Kapatakkha Parer Roddur [Sunrays on the Banks of the Kapatakkha][2012, Ittadi Grantha Prakash, Bangla Bazar, Dhaka]
8. Kagoj Kusum [Paper-flowers] [2014, Mahakal, Bangla Bazar, Dhaka]
9. Tumi Balo Tumi Bristi Valobaso [2015, Parilekh, Rajshahi]
10. Shrestha Kabita [2015, Ittadi Grantha Prakash, Bangla Bazar, Dhaka]
11. Amar Kothao Jaoar Nei [I Have Nowhere to Go] [2017, Ittadi Grantha Prakash, Bangla Bazar, Dhaka]
12. Mujibnama [an epic,2018, Envelope Publication, Dhaka
13. Mohakaler Kanna [The Cry of the Eternity] 2018, Desoj Publication, Dhaka.
14. Manus Amar Bhai [Men Are My Brothers]
[2020, Ittadi Grontho Prokash, Dhaka]

Prose:

1.Kabita Kamal [Lotus of Poetry] [2006, Ittadi Grantha Prakash, Bangla Bazar, Dhaka]]
2. Kabitar Adhunikata [Modernity of Poetry] [2010, Siddikia Publications, Bangla Bazar, Dhaka].
3 Sahitter Sat-Satero [Varities of Literature] [2018, Desoj Publication, Dhaka]

Children Literature:
1. Chharachhari [2009, Parilekh, Rajshahi]
2. Khoier Jama Bagher Gaye 2016, Parilekh, Rajshahi

Translation:
1. Modhusudoner Engreji Kabita [2009, Bhumika, Bangla Bazar, Dhaka]
2. The Golden Kabin Translation of Al Mahmud's 'Sonali Kabin' [2010, I-Proclaim Press, USA]
3. Vinna Vasar Shrestha Galpo [2014, Mahakal, Dhaka]
4.Behester Bagan [2017, Envelope Publication, Dhaka]
5. Nirabachito Bideshi Kabita Envelope Publication, Dhaka

Editing and Compiling:
1. Adhunik Bangla Kabita [2009, Ittadi Grantha Prakash, Bangla Bazar, Dhaka]
2. Anthology of the World Poetry [2010, I-Proclaim Press, USA]

Journal:
Bangla Literature
This page is based on the copyrighted Wikipedia Sayeed Abubakar; it is used under the Creative Commons Attribution-ShareAlike 3.0 Unported License. You may redistribute it, verbatim or modified, providing that you comply with the terms of the CC-BY-SA.
It's Such A Night
It's such a night that never wants to be dawn.
It's such a flame that never gets extinguished.
It's such a pain that has no remedy;
only it turns the body and the soul into ashes
burning them cruelly.