Sean Norris
Sean Norris
(February 9,1987 / El Paso, TX)
Biography of Sean Norris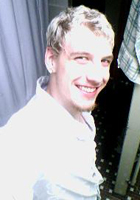 I am being myself. I've always expressed my feeling with the poems. I am a college student at Gallaudet University. Yes, I am a profound deaf. I grew up in different states because my father was an army. Currently, I am living in two states, which are California and Washington, D.C. I normally writes poems when I am down or in love.

Sean Norris's Works:

I have not published any book and plan not to.
Happiness
Sadness have strikes me
I fought harder and harder
To get the happiness back
I weeps frequently
I smiles frequently
Happiness is what I want in return
Having him support me
Gave me a happiness