Seraphina Wick
Seraphina Wick
(May 17,1987 / Oregon)
Biography of Seraphina Wick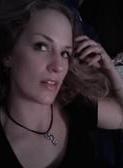 Here I am, again.
A few years later.
Welcome to the year 2008, Miss Wicked!
(Welcome to the rest of you, too.; })

These poems are... old. From high school. But I rather like them.

I hope you do, too.

Would you... maybe...
Like to see... some of my new rubbish?
You know, maybe..?

~*The New-And-Improved 'Happy Garbage About Sera'*~

My favorite colour is: blue, purple and green.
My favorite flavour is: honey and cinnamon.
My favourite poem is: a toss up between 'Fire and Ice' by Robert Frost and 'Still I Rise' my Maya Angelou. (This one is still true.)
I want: to fly. | to run away from Earth. | to wake and find that the stuff of my dreams has become the lifeblood of reality. | a cup of coffee. | a kiss on the forhead. | a moment of your time. | to see fireflies at least once in my life.
I love: dreaming. | singing. | dancing. | spices. | caffiene. | candy. | the evening breeze during the summer. | the way seagulls float around like kites. | feathers. | colours. | colourful people. | zombies.
I hate: zombies.
I'm terrified of: zombies.
I'm gonna: melt into the wind one day, and no one will know where I've gone...

*! * Find me on myspace, if you can. *! *
Kiss The Moon
Kiss the moon as you would kiss me...
With fear, fervor. Fiery.
Hold nothing back.
Let it burn.
For glow and glimmer
Lust and yearn.
An audience of stars,
But feel not shame.
Let them die within the flame.
Hold nothing back...
Do not turn...
Kiss the moon and let it burn.
Breathe the air and burn, burn, burn.