serique gil
serique gil
(sept 1 1964 / Santarem)
Biography of serique gil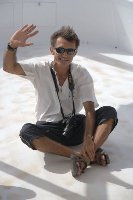 I was born on a small village up the Tapajos river

moved to Santarem when I was 12 years old. I also lived for a while in Cuzco, Peru and for four years in Salvador Bahia.

I love in my hometown of Santarem. I love windsurfing, birdwatching, reading and writing.

I have published two books and credited The Thief at the end of the world. I contributed to Fordland to Fordland, the rise and fall of Ford's forgotten town. I was also dedicated The Drowning world by Alan Dean Foster author of estartrek, starwars, alien and 100 other books.

I am eager to publish a novel caled Nothing happens bu chance, a novel about my grand tfather1s life who moved from Morocco to here in 1860 and may have dropped seeds of rubber trees into Sor Henry Wickham's pocket.

I am also a guide and environmentalist.

serique gil's Works:

A guide to the birds of varzea birds(to the enquisitive initiate) and On the River.
serique gil Poems
On The River
On the River A campainha toca duas vezes e a marcha ré é acionada ao entardecer. Ela toca uma vez mais separando uma seqüência de três conjuntos crescentes de bleings. The bell tolls twice and rear gear is set at dusk. It rings once more and separates a sequence of three crescent sets of bleings.
All poems of serique gil »
Share your comments »
On The River
On the River
A campainha toca duas vezes e a marcha ré é acionada ao entardecer. Ela toca uma vez mais separando uma seqüência de três conjuntos crescentes de bleings.

The bell tolls twice and rear gear is set at dusk. It rings once more and separates a sequence of three crescent sets of bleings.
Farewell atmosphere is broken by hooking hammocks, knot shows, "-How is the weather? " and "– What did I forget? "

A atmosfera de despedida é rompida pelo atar das redes, shows de nós, - Como tá