Servio Gbadamosi
Servio Gbadamosi
(Ibadan, Nigeria)
Biography of Servio Gbadamosi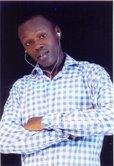 Poet, Lyricist, Performing Poet and Emcee, Servio Gbadamosi was born in Ibadan, Nigeria. He was educated at the Ibadan Grammar School, Ibadan, and Olabisi Onabanjo University, Ago-Iwoye, where he studied Mass Communication. His career as a poet began in July 20003 when he suddenly discovered poetry in his search for an appropriate medium of self-expression. He has completed three collections of poetry and considers himself a student of Christopher Okigbo, Tchicaya U'Tamsi, Okot P' Bitek, Wole Soyinka, Ralph Waldo Emerson, Henry David Thoreau and Kris Parker…

While searching for avenues other than the written word to make himself understood and bring poetry "closer" to the people, Servio "fell in love" with Spoken Word Poetry and Hip Hop. Spoken Word he says "allows me to animate the written word while Hip Hop allows me to fuse my radical thoughts with the rhythm of contemporary music." He has performed at several Open Mic Events. He believes Spoken Word Poetry and Hip Hop will enable him reach out to people who are out of touch with books while maintaining his fidelity to the written word.

From coordinating young writers and artists, organizing Open Mic Events and Poetry Readings on Campus, Servio has since moved on to greater challenges. He is a founding member and Coordinator of FORGE FOUNDATION, a socio-educational organization committed to the development of culture, literature and the arts amongst Africa's teeming young. His poems have appeared in The Sentinel Poetry Magazine, Creative Mask and CROSSROADS: An Anthology of Poems in Honour of Christopher Okigbo [1932-1967]. Currently, he is perfecting his songwriting skills and preparing to record his first Mixtape…

Servio Gbadamosi's Works:

None. Prospecting for credible publisher[s]...
Harmony
Without the mortar,
The song of the pestle
Is one solitary croak
Rampaging a corner...

Without the pestle, the mortar is one
Thick madam yearning for love with a sun-tint face

Whenever the mortar sights the pestle,