Seth Morrow
Seth Morrow
(11/16/1982 / Ames Iowa)
Biography of Seth Morrow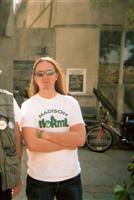 ….. My biography…..
Well here we go. I was born and raised in Iowa, sense my birth in 1982.
I was given a great sign (Scorpio) , but a crappy stone. My family is very loving, human but loving non-the less. In all I grew up with 6 individuals in my home. There is my mother, (who would have made one hell of a hippie) extremely loving, caring, and gifted artist. In both music and pen.
My father…. The man who taught me to be a man, just not the exact type he might have wanted. Though a great man, and blessed with the gift of leadership, tends to be a bit of a workaholic and square around the edges. Both my parents (no longer together) are very loving, and if it weren't for them I would not be who I am today.
Now onto the sisters,4 in all: Tiffany, the oldest in the family and the one I'm probably closest to. We share almost identical views, and even at times are psychicaly linked. Together we have seen allot.
Then we have Rachel: A little more than a year younger than me, we share the closest resemblance in the family. At least that's what I'm told. Like Tiffany we have also seen and shared allot together.
Time to move on to my "brother". Well… not brother exactly, actually she is my second youngest sister. The tomboy of the family, and even in younger years picked up the nickname Al, for the short - short hear cuts she used to wear, and the fact that she could hit like a man. We have had our fare share of slugfests, but wouldn't have it any other way.
Finally comes the youngest Gabbriell: For only 15 she is quite the women, still fresh in the ways of the world, she's like sponge, soaking up all the info her siblings can give. (All good info too, if I do say so myself.)
Together we grew up in the small farming community of Chelsea Iowa. My father was a truck driver and small engine business owner, which didn't give him allot of time at home. He played the role of what he thought a man should. Provide for the family at all costs, and he did.
Now I'm not complaining, a family of 7 is allot of food and clothing through out the years. I actually thank him. I'm sure it took allot of sacrifice on his part.
Ok, now I could go on for pages upon pages with stories of my former life, but instead of doing that I'll just get down to a little bit about me. Like I said in the first line, I was born in 1982 which makes me 24. Still young in age, but vast in experience. There's something about life that perplexes me! I love to view and listen to others. Guess you could say I still believe in people.(Did someone say HIPPIE) Although destructive by nature, people are still loving, caring, compassionate, joyous, intriguing, and above all else human.
Obviously I like to write: Poetry, lyrics, or even just random rambling. Writing to me is calming, you can verbally express thoughts but it never means the same as it does when it's written down. Writing allows the imagination to come out in full swing, even when writing non-fiction. All are equal when it comes to writing. A poem might not mean something to everyone, but if it can reach one person, just one person than every word is worth its weight in gold.
"Come one come all to this beautiful lie. Come one come all to this beautiful life."
There is only so much time and room for a person to say something about themselves, and I'm running out.
To sum myself up now, I'd have to say….. I'm the type who likes to live, love, and experience all walks of life, culture, and humanity. If you would like to learn a little more about my interests then feel free to check out my MySpace page. www.myspace.com/amazinghippie
Thanx for taking the time to read this little bit of me, I hope to hear from everyone soon and hope some of you will enjoy my writings. Also let me know what you thought. Liked it, didn't like it. Drop me a line and share your thoughts. After all criticism is the best fuel for writing. Peace to all, good-bye.....
Ow ya and if you actually took the time to read all this then I'll fill you in on a little info. The first 15 Poems are my personal favorites, enjoy!
{the Color Of Life}
Stop at once and join us now
the sky has turned from clouded to Blue
an Orange haze fills the horizon
now destinys posted a clue

Make no assumptions
as the waves spew lavander spray
in the sky that's turned from Red to Blue
it's Green in the ground