Shamim Hashimi
Shamim Hashimi
[Dr. Shamim Hashimi] (14 August,1947 / Sasaram)
Biography of Shamim Hashimi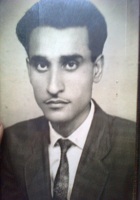 Dr. Shamim Hashimi Full name Syed Muhammad Shamim Hashimi is an Indian Poet well known for his poems written in Urdu and Persian. He is often called a poet of new Ghazals. His works, Published in three languages Urdu, Persian and English, consists of two books of collection of Urdu Ghazals, a collection of Persian Ghazals, more than six books of Urdu and Persian prose, and few books of Persian and English grammar for educational board of state government.
Shamim was born and brought up in Sasaram, India. At the age of 9 years he started writing and started publishing his works in his teens. He arose as a successful poet and writer in 1960-70s. His Ghazals and prose works have been published by a lot of established and standard magazines of Urdu literature like Funoon, Shair, Aaj kal, Toffee, Shabkhoon, Naya daur etc.
Shamim produced most of his works between 1960 and 1980. He raised the peak of sophistication and artistry by 1970s. his major works were published in 1970s and he almost stopped publishing his works since 1975 and moved aside from the world of literature as the uneven situations of his life became his priority. But one of his major creation Toot tay patton ka dukh was pubished by niral dunya publishers New Delhi in 2005 whis was widely appreciated. One of the notable Urdu critics Zaheer Ghaipur writes: "…….Shamim Hashimi is pretty conscious about usage of words. He follows the discipline of words and has complete control over the creative usage of words and language. So by all the means he is an expert of Ghazals. Basically he is a poet of ghazals.
Poetry of Shamim Hashimi seems to be soaked in sobs and tears of night, the dew, which evaporates sketching diamonds on petals and flowers but leaves the shining sign of its existence.
Shamim Hashimi has ornamented his Poetry with words like flowers and thoughts like fragrance as he has deep connections with this category of literature….."
Early Life:
Shamim is the son of Syed Muhammad Sayeeduddin. He was born in Sasaram on 14 August,1947 in a family of well known personalites of literature. A well known critic Shamsurrahman Faruqui writes in a letter to him: "…..I read your book hither and thither and enjoyed it. Your book comprises of a prose part as well which specifies the venerableness of your poetry. Your autobiography impressed me a lot. You have the tradition of intellect and Godliness from the family of your mother and from that of your father as well and these two qualities are reflected in your poetry at a lot of places…….."
Home of the ancestors of Shamim was MalaawaN, Nalanda Bihar, which was destroyed and demolished in the riots of partition of India. The people who survived moved to different locations of India and few of them moved to Pakistan.
Shamim is educated from India's one of the greatest Madrasas Khanqaah Kabeeria, Daira, Sasaram established 1717. He completed his Alim (graduation) from the same madrasa at the age of 15 years where he was taught Arabic, Urdu, Persian, English, Islamic theology and other subjects.
Poems:
Shamim Hashimi wrote a lot notable poems which consist of highly quotable couplets e.g.;
Urdu: "Sair e chaman karuN to wahaN bhi na ji lagey
PhooloN ki dilkashi me tumhari kami lagey"

English "The beauty of garden is not appealing any more
I miss you in the attraction of flowers…."
- - - - - - - - - - - - - - - - -
Urdu: "Aap ka Sheva fakat mere gunaahoN ka Shumaar
Mai gunahgaar sahi, aap hi maasuum nahi."

English: "Your oaths are just the counts of my faults, o dear!
I may be a sinner, you are not innocent either."
- - - - - - - - - - - - - - - - - -
Urdu: "lamhoN ka teer seena e maazi me chubh gaya
Lagta hai aaj yaad bahut aaiyega aap."

English: "The arrow of moments hit the heart of the bygone days
I feel I will miss you a lot today."
- - - - - - - - - - - - - - - - - - - - -
Urdu: ek ajnabi ke bhes me niichi nazar kiye.
Guzre hazaar baar teri rahguzar se ham

English: In disguise of a stranger with my eyes down
I passed your way a thousand of times.
Awards & Academics:
• Aalim (graduation)
• Fazil (Urdu & Persian)
• M.A. (Urdu)
• Dip in Ed.
• PhD.
• Sahitya Bhushan
• Bihar Urdu Academy Award
References:
*Zaheer Ghazipuri (2009) , jharkhand-aur-bihar-ke-aham-ahl-i-qalam,
• Dr. Manazir Ashiq Harganvi (1975) , Urdu ki kahani Sho'raa ki zubaani, Lacknow, India.
• Dr. Manazir Ashiq Harganvi (2006) , Doha Geet, Doha Ghazal, Bhopal, India.
• Hasan Nizami (2007) , Jharkhand ke jadeed Ghazal-go Sho'raa ka tanqiidi-o-tajziyaati Mutaala'a, Jhariya, Dhanbad, India.
• Wahab Ashrafi (2011) , vol.10, issue 38 Mubahisa (magazine) . Patna, p.143
• Nawai Duggar, Jammu, Feb 9,2007, Shumara No.5.
• Dr. Manazir Ashiq Harganvi (2006) , Kohsaar, Bhikanpur-3, Bihar.p.16.

Shamim Hashimi's Works:

Urdu
1. Collection of ghazals 'Toot-tay Patton Ka Dukh.'
2. Sahsaraam me urdu shayari ki ibtada-o-irtiqaa (evolution of Urdu poetry in Sahsaraam.)
3. Tahfeem-e-insaaniyat. (meaning of humanity) .
4. Kulliyaat-e-Mahjoor Shamsi. (Works Mahjoor Shamsi)
Persian
1. Collection of Persian Ghazals
2. 'Farsi ki pahli kitab' The course text book for inter college (Bihar board) and Magadh University 1973.
3. Taaleef "Faryaad-e-raghib"
4. Talkheez-e-sher-ul-'ajam.

English
1. Book of English grammar for bihar government board.