Shannon Brown
Shannon Brown
(May 8,1969 / West Virginia)
Biography of Shannon Brown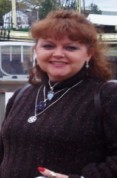 I am 36 years old, wife, mother and HPS to Crystal Falls Coven. I have written poetry all of my life, but only had one published. I am a decesendant to Edgar Allan Poe through my Grandmother in which her 3rd Great Grandmother was Kate Poe from the U.K.

I have a passion to write poetry wheither it is dark and lonely or brilliantly explosive with happiness.

To me poetry is the ebbs and flows of our spirit, being able to express it is a true gift.

Blessings and Prosperity to all.
Sacredly I Come
Sacred Rites and Sacred Passages,
These I've leared as a Child of the Goddess.

Solitare in Circle in meditative states,
Seeking the Elders Old Ways,
Wisdome, Knowledge as They open the gates.

My bloodline runs heavey of the Scottish-Irish Trads~
Lest I shall always include the depths of my bloodline