Shanul Haq Haqqee
Biography of Shanul Haq Haqqee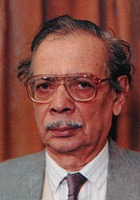 Shan-ul-Haq Haqqee (Urdu: شان الحق حقی), Sitara-e-Imtiaz, Tamgha-e-Quaid-i-Azam, was a notable Urdu poet, writer, journalist, broadcaster, translator, critic, researcher, linguist and lexicographer of Pakistan.

Born in Delhi, Haqqee acquired his BA from Aligarh Muslim University. He obtained a Master's in English literature from St. Stephen's College, Delhi. He was a scion of a great literary family from Delhi. His father, Maulvi Ehtashamuddin Haqqee, wrote short stories, a study of Hafez, Tarjuman-ul-Ghaib, a translation of Diwan-i-Hafiz in verse and compiled a dictionary.

Haqqee recited his first ghazal at an annual poetic gathering of St. Stephen's College.

Contribution to Urdu

He published two anthologies of poems, Tar-i-Pairahan (1957) and Harf-i-Dilras (1979), a later collection of his selected ghazals was published under the title, Dil ki Zaban. His other publications include, Naqd-o-Nigarish (criticism), Maqalaat-e-Mumtaz, Shaakhsaanay (Short Stories), Maqam-e-Ghazal (edited work of Hafiz Hoshiarpuri), Nashid-i-Hurriyat, Nukta-e-Raz, Bhagvad Gita (Urdu translation),Darpan Darpan (translation of poetry from various languages), Intikhab-e-Kalam-e-Zafar, Qitaat-e-Tareekh-e-Wafat-e-Ahle-Qalam-wa-Mutaliqeen-e-Ahle-Qalam, Lisani Masail-o-Lataif, Nazr-e-Khusro PaheliaN Keh MukarniyaN, Aaeena-e-Afkar-e-Ghalib, Nok Jhonk, Suhaanay Taraanay, and children's literature with the title, Phool Khilay Hain Rung Birnagay (Poems for children 8–80 years old), Anjaan Rahi (translation of Jack Shaffer's novel Shane), Teesri Duniya (translation of essays on politics and economy), Soor-i-Israfeel (translation of Bengali poet Qazi Nazrul Islam), Khayabaan-e- Pak (anthology of Pakistan's folk poetry of about 40 poets), and he also wrote his autobiography that was serialized in Urdu journal Afkaar.He also translated the Shakespeare's Antony and Cleopatra, and Chanakya Kautilya's Arthashastra. He tried his hand at other genres of poetry, such as Peheylian, Kehmukarnian, and Qitat-i-Tareekhi too.

As a lexicographer

Haqqee has done his mother tongue a great service in the field of lexicography and linguistics. In addition to his regular professional duties, he remained associated with the Urdu Dictionary Board for 17 years from 1958 to 1975, compiling a monumental 24-volume dictionary, that may termed as his labor of love. Apart from Urdu Dictionary Board's work, Haqqee compiled two dictionaries. Farhang-e-Talaffuz is a pronouncing dictionary of Urdu published by National Language Authority. The Oxford English-Urdu Dictionary, a phenomenal work that instantly became a 'must' for every scholar and student of Urdu, is a translation of the eighth & ninth editions of Concise Oxford English Dictionary.

In addition to the libraries in South Asia, some of Haqqee's books may be found at the Library of Congress, and University of Toronto Library.

Death

He died from complications of lung cancer in Mississauga, Canada on October 11, 2005. He was about 88. Haqqee left five sons and one daughter. Like his wife, a well-respected teacher Salma Haqqee who died exactly two years earlier, he was also buried in Toronto, Canada.
This page is based on the copyrighted Wikipedia Shanul Haq Haqqee; it is used under the Creative Commons Attribution-ShareAlike 3.0 Unported License. You may redistribute it, verbatim or modified, providing that you comply with the terms of the CC-BY-SA.