Shashank K Dwivedi
Shashank K Dwivedi
[Shashi] (15-01-1992 / Faridabad, Haryana)
Biography of Shashank K Dwivedi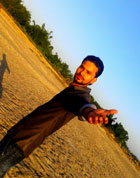 Shashank K Dwivedi is a renowned Hindi Poet and a Researcher in ISRO, Bangalore.

Early Life and Education

Shashank K Dwivedi was born on 15 January 1992, in Faridabad, Haryana in a Brahmin family. He is the youngest among Two brothers and a sister. He started his schooling from D.P.S., R.K.Puram, New Delhi where he spent a part of his childhood. After completing his intermediate from D.P.S. R.K.Puram, New Delhi, his father wanted him to be an Engineer, he had a passion for Poetry right from the childhood. He took interest in engineering and decided to make career in the field of Engineering. He did B.Tech with CSE in NIT Rourkela, Odissa.

Career

Shashank started his career as a Researcher(ISRO) in the year 2013 from Bangalore.

Works and Achievements

Shashank is a Poet of Hindi language. He is a poet of Shringara-Ras (Romantic Genre) . He has participated in several College functions and is a very renowned poet.

His fan communities on social networking websites like Orkut, and Facebook have largest number of fans.His website is a frequently visited website among youths.

Besides being a known face among Hindi-knowing people across the world as a Poet, Shashank has been involving himself in several Social works. He is an active and renowned member of the Civil Society. He has been an integral part of Swedeshi Andolan. 'India against corruption' mission along with Mr Arvind Kejriwal and Mr Manish Sisodia.

Performances

Shashank has been performing in Kavi sammelan all over India. The list includes INDIAN SCHOOL OF MINES, DHANBAD, Jamia Hamdard University, IIIT Hyderabad, NIFT Gandhinagar, IIT Guwahati, NIT ROURKELA, IIT Kanpur, IIT Roorkee, IIT Kharagpur, IIT Bubaneshwar, Jamia Millia Islamia New Delhi, DA-IICT Gandhinagar, Fore School of Management New Delhi, NIT Surat, B.S.Anangpuria Institute of Technology and Management Faridabad, KIIT University Bhubaneswar, NSIT Delhi, National Institute of Technology, Kurukshetra IIITM Gwalior, CDGI INDORE, Jawaharlal Nehru University Delhi, MNNIT Allahabad, NIT Patna, IIM Lucknow, NIT Jalandhar, NIT Trichy, NIT Durgapur, BITS, Pilani, LNCT Bhopal, MERI Kolkata, B.I.T. Sindri, IET Lucknow, SSGPURC hoshiarpur, JIIT, Noida, institutions across India.

Besides Poetry Performances he visited in almost all parts of India, Shashank has also Joined Research Programmes in countries like USA, Germany, Russia, Japan, Australia.

Awards
The Undergraduate Student Research Awards (USRA) in 2012
Young Initiative Youth Award in 2012.
NRI Award in 2013.
STEM Research Project Award in 2014.
Humboldt Research Award in 2014

This page is based on the copyrighted Shashank K Dwivedi; it is used under the Creative Commons Attribution-ShareAlike 3.0 Unported License. You may redistribute it, verbatim or modified, providing that you comply with the terms of the CC-BY-SA.
Kanyadaan Hua Jab Pura
Kanyadaan hua jab pura, Aaya samay vidayi ka
Hashi khushi sab kaam hua tha, Saari rashmm adaai ka
Beti ke uss kaatar swar ne, Baabul ko jhakjhor dia
Puch rahi thi papa tumne, Kya sach-much me chodd dia

Apne aangan ki phulwari, Mujhko sada kaha tumne
Mere rone ko pal bhar bhi, Bilkul nahi saha tumne
Kya iss aangan ke kone me, Mera kuch asthan nahi
Ab mere rone ka papa, Tumko bilkul dhyan nahi