shreyoushi patel
shreyoushi patel
(Mumbai)
Biography of shreyoushi patel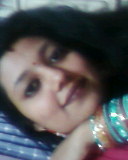 I am in love with life and all its idiosyncrasies. Like a typical Gujarati, I am romantic, reflective, intelligent. Generally with the sunny side up, I am good content wrapped up in a nice cover :)
What can I say about me? I think that if you look at my photo, you will see a lot and will be able to understand my character. I am a joyful person, full of gladness and optimism. I know that life is great and want to share this with someone. I never got sad because I believe that even if I have a grey day today, tomorrow the sum beams will show themselves :) My friends call me khushi because I am always in a good mood and bring it to others. So, if you want to share my happiness, you are always welcome to write me, and I'll always answer you with pleasure.
You Will Find A Way
You'll find a way,
When there's no other means to explore,
Except but your hopes,
And some faith in yourself,
That you can reach your goal.
You'll find a way,
Even after the dead end,
But for the crowd following you,
You'd carve a Pathway.