Simone de Beauvoir
Biography of Simone de Beauvoir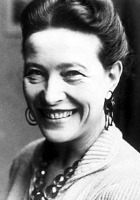 Simone-Lucie-Ernestine-Marie Bertrand de Beauvoir, commonly known as Simone de Beauvoir (9 January 1908 – 14 April 1986), was a French writer, intellectual, existentialist philosopher, political activist, feminist, and social theorist. While she did not consider herself a philosopher, Beauvoir had a significant influence on both feminist existentialism and feminist theory. Beauvoir wrote novels, essays, biographies, an autobiography, monographs on philosophy, politics, and social issues. She is best known for her novels, including She Came to Stay and The Mandarins, as well as her 1949 treatise The Second Sex, a detailed analysis of women's oppression and a foundational tract of contemporary feminism.

Simone de Beauvoir was born in Paris, the elder daughter of Georges Bertrand de Beauvoir, a legal secretary who once aspired to be an actor, and Françoise (née) Brasseur, a wealthy banker's daughter and devout Catholic. Simone's sister, Hélène, was born two years later. The family struggled to maintain their bourgeois status after losing much of their fortune shortly after World War I, and Françoise insisted that the two daughters be sent to a prestigious convent school. Beauvoir herself was deeply religious as a child —- at one point intending to become a nun -— until she experienced a crisis of faith at age 14, after which she remained an atheist for the rest of her life.

Beauvoir was intellectually precocious, fueled by her father's encouragement; he reportedly would boast, "Simone thinks like a man!" After passing baccalaureate exams in mathematics and philosophy in 1925, she studied mathematics at the Institut Catholique and literature/languages at the Institut Sainte-Marie. She then studied philosophy at the Sorbonne, writing her thesis on Leibniz for Léon Brunschvicg.

She first worked with Maurice Merleau-Ponty and Claude Lévi-Strauss, when all three completed their practice teaching requirements at the same secondary school. Although not officially enrolled, she sat in on courses at the École Normale Supérieure in preparation for the agrégation in philosophy, a highly competitive postgraduate examination which serves as a national ranking of students. It was while studying for the agrégation that she met École Normale students Jean-Paul Sartre, Paul Nizan, and René Maheu (who gave her the lasting nickname "Castor", or beaver). The jury for the agrégation narrowly awarded Sartre first place instead of Beauvoir, who placed second and, at age 21, was the youngest person ever to pass the exam.