Simone Muench
Biography of Simone Muench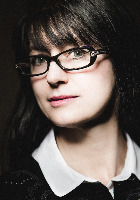 Simone Muench is an American poet and a professor of creative writing and film studies. She was raised in the small town of Benson, Louisiana and also Arkansas. She completed her bachelor's and master's degrees at the University of Colorado in Boulder, received her Ph.D from the University of Illinois at Chicago and is director of the Writing Program at Lewis University in Romeoville.

She is the author of five books: The Air Lost in Breathing (Marianne Moore Prize for Poetry; Helicon Nine, 2000), Lampblack & Ash (Kathryn A. Morton Prize for Poetry; Sarabande, 2005), and Orange Crush (Sarabande, 2010), Disappearing Address, a collaboration of epistolary poems co-written with Philip Jenks (BlazeVOX, 2010), and the upcoming Wolf Centos (Sarabande, 2014). Her chapbook Trace received the Black River Chapbook Award and was published by Black Lawrence Press in 2014.

Simone Muench's Works:

Books

The Air Lost in Breathing (Helicon Nine, 2000)
Lampblack & Ash (Sarabande, 2005)
Orange Crush (Sarabande, 2010)
Disappearing Address with Philip Jenks (BlazeVOX, 2010)
Wolf Centos (Sarabande, 2014)

Chapbooks

Trace (Black Lawrence Press, 2014)
Little Visceral Carnival (Cinematheque Press, 2009)
Orange Girl (Dancing Girl Press, 2007)
Sonoluminescence (Dusie Press, 2007)
Notebook. Knife. Mentholatum (New Michigan Press, 2003)
Wolf Cento
Very quick. Very intense, like a wolf
at a live heart, the sun breaks down.
What is important is to avoid
the time allotted for disavowels
as the livid wound
leaves a trace leaves an abscess
takes its contraction for those clouds
that dip thunder & vanish
like rose leaves in closed jars.