Sir Henry Taylor
Biography of Sir Henry Taylor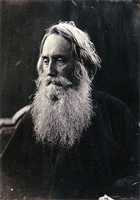 Sir Henry Taylor (October 18, 1800 – March 27, 1886) was an English dramatist.

Taylor was born in Bishop Middleham, the son of a gentleman farmer, and spent his youth in Witton-le-Wear with his stepmother at Witton Hall (now Witton Tower) in the high street. His father George was a friend of Wordsworth and the poet visited him in July 1838.

In Witton, Taylor wrote 'The Cave of Ceada' which was accepted for the Quarterly Review. He became editor of the London Magazine in 1823, and from 1824 until 1872 he worked in the Colonial Office. Taylor wrote a number of plays, including Isaac Comnenus (1827) and Philip van Artevelde (1834. This latter brought him fame and elicited comparisons with Shakespeare In 1845 there followed a book of lyrical poems. His essay 'The Statesman' (1836) caused some controversy, being a satirical view of how the civil service really works. Taylor published his Autobiography in 1885, which contains pleasant portraits of Wordsworth, Southey, Tennyson and Scott among others.
Elena's Song
QUOTH tongue of neither maid nor wife
To heart of neither wife nor maid--
Lead we not here a jolly life
Betwixt the shine and shade?

Quoth heart of neither maid nor wife
To tongue of neither wife nor maid--
Thou wagg'st, but I am worn with strife,
And feel like flowers that fade.