Sir Henry Wotton
Biography of Sir Henry Wotton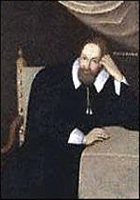 Wotton was born in Kent, England and was educated at Winchester and New and Queens Colleges, Oxford. Whilst studying at Oxford he met John Donne, the first and greatest of the metaphysical poets, who later became a close friend. In 1595, Wotton became secretary to the Earl of Essex, collecting foreign intelligence. He became the ambassador to the court of Venice, and in later years, provost of Eton College. Whilst on a visit to Augsburg in 1604 he wrote a definition of an Ambassador which is now one of his most famous phrases; "An Ambassador is an honest man, sent to lie abroad for the good of his country." Although his works are small in number they are known for having great poise and polish and his enthusiasm for classical architecture and proportion can be seen to have a large influence on his poetry.
This page is based on the copyrighted Wikipedia Sir Henry Wotton; it is used under the Creative Commons Attribution-ShareAlike 3.0 Unported License. You may redistribute it, verbatim or modified, providing that you comply with the terms of the CC-BY-SA.
Doctor B. Of Tears
Who would have thought, there could have bin
Such joy in tears, wept for our sin?
Mine eyes have seen, my heart hath prov'd
The most and best of earthly joyes:
The sweets of love, and being lov'd,
Masks, Feasts, and Playes, and such like toyes.
Yet, this one tear, which now doth fall,
In true delight exceeds them all.