Sir Philip Sidney
Biography of Sir Philip Sidney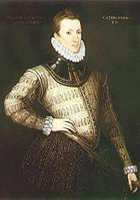 Sir Philip Sidney was born at Penshurst Place, Kent, eldest son of Sir Henry Sidney. He entered Shrewsbury School in 1564 on the same day as Fulke Greville, his friend and biographer. After attending Christ Church, Oxford (1568-72), he travelled in Europe where for three years he perfected his knowledge of Latin, French and Italian. In 1577, aged twenty-two, he was sent as ambassador to the German Emperor and the Prince of Orange.

His strong Protestant sympathies made him advise Elizabeth I in a private letter (1579) against marrying the Duke of Anjou, Roman Catholic heir to the French throne. He was knighted in 1583 and became Member of Parliament for Kent in 1581 and 1584-85. In 1585 he was appointed joint master of the ordnance, the office in charge of the country's military supplies.

A patron of scholars, his wide range of interests accounted for the dedication to him of over forty works of various disciplines. The best-known poet to enjoy his patronage was Spenser who dedicated his Shepherd's Calendar to him. Avoiding commercialism, he did not publish his works in his lifetime. He was fighting against the Spaniards in the Netherlands when he received a wound which eventually killed him at the age of thirty-two. All England mourned this courtier and statesman who had embodied the Elizabethan ideal of virtue.
This page is based on the copyrighted Wikipedia Sir Philip Sidney; it is used under the Creative Commons Attribution-ShareAlike 3.0 Unported License. You may redistribute it, verbatim or modified, providing that you comply with the terms of the CC-BY-SA.
Psalm 19: Coeli Enarrant
The heavenly frame sets forth the fame
Of him that only thunders;
The firmament, so strangely bent,
Shows his handworking wonders.

Day unto day doth it display,
Their course doth it acknowledge,
And night to night succeeding right
In darkness teach clear knowledge.