Sky Welch
Sky Welch
(01/13/1997 / Greencastle)
Biography of Sky Welch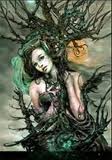 I started writing poems in middle school my seventh grade year. It started when a friend of mine was writing some pretty dark poetry about her non-existent depression. I ended up trying to write some and a lot of mine turned out to be darker than her's.
so, i have gotten some measages from some fans of my work or those who just want to be my friends so i'm going to give my email so that i can keep better track of you wonderful people! so here it is: 'welchsky97@gmail.com'
so feel free to email me at will.
also i love other cultures so if your from a country other than the united states then i'd be very excited to hear from you and learn more about your culture.
I am now engaged to my lovely Fiance Rowan Welch. he also writes poems on here. I met him in my Shakespeare performance class at DePauw university.
Leaves
Leaves from the vine, carry me home
Like shadows drifting from, the meadow's roam
Little soldier boy, comes marching home.
Brave soldier boy, comes marching home.
Life of the tree, floats in the wind
Drifting ever sweet, helps life to mend
Little soldier boy, comes marching in.
Brave soldier boy, comes marching in.
Leaves from the vine, carry me home