Sofiul Azam
Sofiul Azam
(January19,1981 / Bangladesh)
Biography of Sofiul Azam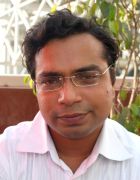 Educated in English Literature at Rajshahi University, Sofiul Azam has three poetry collections Impasse (Dhaka: Pathak Shamabesh,2003) , In Love with a Gorgon (Aarhus: Les Editions du Zaporogue,2010 and forthcoming from County Clare: Salmon Poetry) , Safe under Water (Dhaka: Magnum Opus,2014) and edited Short Stories of Selim Morshed (Dhaka: Ulukhar,2009) . His poems have appeared in magazines across the world like Prairie Schooner, Poetry Salzburg Review, Le Zaporogue, The Journal (once of Contemporary Anglo-Scandinavian Poetry) , Orbis, Erbace, The Cannon's Mouth, Forward Press, Conversation Poetry Quarterly, Boyne Berries, Deep South, Catamaran, Protocol, Postcolonial Text, Lakeview International Journal of Literature and Arts, NAP Magazine, etc. and some are anthologized in Journeys, Caught in the Net, Poets Against War, Poetry for Charity Volume 2. He is now working on Earth and Windows: New and Selected Poems.

He lives with his wife and son in Dhaka and teaches English at Victoria University of Bangladesh, having taught it before at Independent University Bangladesh, Southeast University and Royal University of Dhaka.

Sofiul Azam's Works:

Three Poetry Collections:

Impasse (Dhaka: Pathak Shamabesh,2003)
In Love with a Gorgon (Aarhus: Les Editions du Zaporogue,2010 and forthcoming from County Clare: Salmon Poetry)
Safe under Water (Dhaka: Magnum Opus,2014)
The Betrayal
"... to be alone. Because it's not your enemies who condemn you to solitude, it's your friends." - from The Joke by Milan Kundera

Everyday people say it's my heart
that arches over life like a bridge
making way from happiness to misery.
All of my feelings that bloomed for friends
like flowers in an oasis are now cold
as prehistoric icebergs in the North pole.