Sophocles
Biography of Sophocles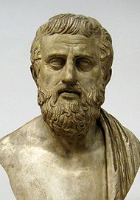 Sophocles (c. 497/6 BC- winter 407/6 BC)was the second of the three ancient Greek tragedians whose work has survived. His first plays were written later than those of Aeschylus and earlier than those of Euripides. According to the Suda, a 10th century encyclopedia, Sophocles wrote 123 plays during the course of his life, but only seven have survived in a complete form: Ajax, Antigone, Trachinian Women, Oedipus the King, Electra, Philoctetes and Oedipus at Colonus. For almost 50 years, Sophocles was the most-awarded playwright in the dramatic competitions of the city-state of Athens that took place during the religious festivals of the Lenaea and the Dionysia. Sophocles competed in around 30 competitions; he won perhaps 24 and never received lower than second place; in comparison, Aeschylus won 14 competitions and was defeated by Sophocles at times, while Euripides won only 4 competitions.

The most famous of Sophocles' tragedies are those concerning Oedipus and Antigone: these are often known as the Theban plays, although each play was actually a part of different tetralogy, the other members of which are now lost. Sophocles influenced the development of the drama, most importantly by adding a third actor and thereby reducing the importance of the chorus in the presentation of the plot. He also developed his characters to a greater extent than earlier playwrights such as Aeschylus
This page is based on the copyrighted Wikipedia Sophocles; it is used under the Creative Commons Attribution-ShareAlike 3.0 Unported License. You may redistribute it, verbatim or modified, providing that you comply with the terms of the CC-BY-SA.
A Fair Eubœan Shore
There stretcheth by the sea
A fair Eubœan shore, and o'er it creeps
The vine of Bacchus, each day's growth complete.
In morning brightness all the land is green
With tendrils fair and spreading. Noontide comes,
And then the unripe cluster forms apace:
The day declines, and purple grow the grapes;
At eve the whole bright vintage is brought in,
And the mixed wine poured out.