Spider Philippe Liondjo
Spider Philippe Liondjo
(Kinshasa)
Biography of Spider Philippe Liondjo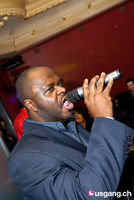 Born 5 years after the Independance of Congo Belge, raised in Europe (Belgium, France and Switzerland) , Spider Philippe is the third child of Camille Fataki Liondjo and Pauline Kongia! Love music, reading and of course Poetry! His schoolmates used to call him 'the Dictionary' because he always had the right definition and the right answer to any question! He was called 'Gran Master Phil the MC Spider' because of his dancing skill. Philippe Spider is a quite well known DJ and MC in Switzerland. He does lots of parties (mainly as the MC with the Magical Voice) in Clubs. Today he works for United Nations Organisation in the Geneva Headquater. He is a political activist and the first poems here are related to the terrible situation in his home country! (more to come)

Spider Philippe Liondjo's Works:

Not yet. I'm preparing one (in French) .
Congo My Love
The dawn gets up on a new day for you and me
The day comes so that I say to you my enjoyment
This enjoyment which fills me and makes me serene
Yesterday, today and so tomorrow
The pain to leave you every morning my love
Becomes blurred in the course of the day which runs
And although slowly comes the evening
The moment for me also comes to see you again
Every day which comes in our lives,