Spiritwind Wood
Spiritwind Wood
(04/07/1968 / West Virginia)
Biography of Spiritwind Wood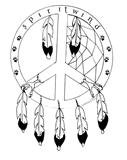 I wanted to see who best described me for my biography, well no one says it better than this...'What would I say about Spiritwind? He is a Spirit in a human body.He is a friend, he is my best friend.The things that inspire him are there for all of us, just most don't see the beauty as he does.Nature is his home.The winds run through him like blood in his veins, the desert is as much a part of him as his heart, his mind, and his soul.Life for Spiritwind is a path laid out before him that runs like the river, he's had many mountains to cross.Yet each journey holds a mystery, each trail an unexpected adventure, every sunrise, even through tears and laughter, he finds beauty.What he cannot express in talk, flows out on paper, a beautiful imagery of words and feelings.In his poems and songs I can feel his joys and his sorrows, his passion for animals and nature, his kindness for all creatures.There is a energy about him that encircles him and begins to trickle onto paper until it pools into a beautiful poem.He truly does walk gently and lives gently in a not so gentle world.And when the road gets rough, to quote the groovy Bob Dylan himself, he 'keeps on keeping on'.Always eager to see what's over the next hill.I've laughed with him in the rain, danced with him under rainbows, and cried with him in the shadows of the moon.As long as he travels this life, he will find inspiration.When the sun sets, it's glowing embers all but sunk into the sea, he will be there waiting for tomorrow, and full of thoughts of the day that just may later come a song..a windsong'-Violet Blue.I'm Cherokee/German, but my heart and soul belong with my ancestors, the Cherokee.There I will always be a Spiritwind, to love and protect our sacred.KEEP THE MUSIC ALIVE! ! ! And remember, 'WALK GENTLY ON MOTHER EARTH', she's the only one we have! ! ! ! ! NVWATOHIYADV! (PEACE!) ..ADANVDOGANOLVVSGV(Spiritwind)

(He that sins against me, wrongs his soul-all they that hate me, love death.)

Spiritwind Wood's Works:

Windsong By Spiritwind-Available on Amazon and Barnes And Nobles-Also available on other bookstore sites worldwide.
Keep Rolling On
You said that love could never be
that the past was gone
theirs' nothing left anymore
now you have to move on
that you met somebody new
time to say good-bye
now don't you cry

That's when my world changed