Stéphane Mallarmé
Biography of Stéphane Mallarmé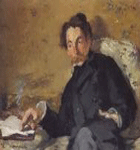 Stéphane Mallarmé worked as a lycée teacher at Tournon, Avignon and then Paris. His salon in the Rue de Rome became a rendezvous for young writers during the last fifteen years of his life. He was a friend of Degas. His verse often experiments with dislocated punctuation and grammar.
A Negress
Possessed by a demon a negress
Wants to taste a girl-child saddened by new fruits
Unlawful ones too under the ragged dress,
This glutton's ready to try a trick or two:

To her belly she mates two fortunate tits
And, so high no hand will know how to seize her,
Thrusts the dark shock of her booted legs
Just like a tongue unskilled in pleasure.