Stéphane Mallarmé
Biography of Stéphane Mallarmé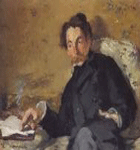 Stéphane Mallarmé worked as a lycée teacher at Tournon, Avignon and then Paris. His salon in the Rue de Rome became a rendezvous for young writers during the last fifteen years of his life. He was a friend of Degas. His verse often experiments with dislocated punctuation and grammar.
Sea Breeze
The flesh is sad, Alas! and I have read all the books.
Let's go! Far off. Let's go! I sense
that the birds, intoxicated, fly
deep into unknown spume and sky!
Nothing – not even old gardens mirrored by eyes –
can restrain this heart that drenches itself in the sea,
O nights, or the abandoned light of my lamp,
on the void of paper, that whiteness defends,
no, not even the young woman feeding her child.