StaceyLeigh Olner
StaceyLeigh Olner
(9/2/1992)
Biography of StaceyLeigh Olner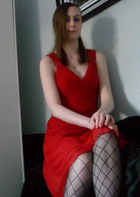 Hi I'm Stacey-Leigh,
I love writing poems and listening to music and reading.
Hope you like my poems :) I have dyslexia so my style of poetry may be different to what you have read before but I still enjoy writing them.

Most of my poems were wrote when I was seriously low so quite a few of my poems will be up setting and may make you cry. Just like they made my teachers cry when I was at school and a few of my friends. If you want to know a reason to why I wrote a certain poem then comment on it and ask and I will tell you or send me a message :)
iIhave a Facebook page for my poetry please feel free to take a look and 'like' it. The link is:
https: //www.facebook.com/StaceysPoetry
if the link don't work then just copy and paste it. :)

StaceyLeigh Olner's Works:

iIhave 3 poems being published so far with United Press :) which are:
'Dad'
'Where did i go you ask? '
and also 'My true friend'

I also have two Ebooks published called:
Feelings From The Heart.
Feelings of a Poet.
Friendship Is Not
Friendship is not a toy,
when you have had enough of it,
and then through it away,
it is more important then that,
True Friends are diomands,
you CANNOT through them away.