StaceyLeigh Olner
StaceyLeigh Olner
(9/2/1992)
Biography of StaceyLeigh Olner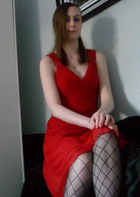 Hi I'm Stacey-Leigh,
I love writing poems and listening to music and reading.
Hope you like my poems :) I have dyslexia so my style of poetry may be different to what you have read before but I still enjoy writing them.

Most of my poems were wrote when I was seriously low so quite a few of my poems will be up setting and may make you cry. Just like they made my teachers cry when I was at school and a few of my friends. If you want to know a reason to why I wrote a certain poem then comment on it and ask and I will tell you or send me a message :)
iIhave a Facebook page for my poetry please feel free to take a look and 'like' it. The link is:
https: //www.facebook.com/StaceysPoetry
if the link don't work then just copy and paste it. :)

StaceyLeigh Olner's Works:

iIhave 3 poems being published so far with United Press :) which are:
'Dad'
'Where did i go you ask? '
and also 'My true friend'

I also have two Ebooks published called:
Feelings From The Heart.
Feelings of a Poet.
When You Find Love.....
When you find love,
Keep it because its precious,
When you find joy,
Make it last,
When it is a new year,
Make it happy,
When you have true friends,
Make them feel safe,
When something makes you smile,
Never regret it,
Because life is short so never forget it.

Wrote again about love