Stanley Jasspon Kunitz
Biography of Stanley Jasspon Kunitz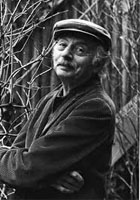 Stanley Jasspon Kunitz (July 29, 1905 – May 14, 2006) was an American poet. He was appointed Poet Laureate Consultant in Poetry to the Library of Congress twice, first in 1974 and then again in 2000.

Poetry

Kunitz's first collection of poems, Intellectual Things, was published in 1930. His second volume of poems, Passport to the War, was published fourteen years later; the book went largely unnoticed, although it featured some of Kunitz's best-known poems, and soon fell out of print. Kunitz's confidence was not in the best of shape when, in 1959, he had trouble finding a publisher for his third book, Selected Poems: 1928-1958. Despite this unflattering experience, the book, eventually published by Little Brown, received the Pulitzer Prize for Poetry.

His next volume of poems would not appear until 1971, but Kunitz remained busy through the 1960s editing reference books and translating Russian poets. When twelve years later The Testing Tree appeared, Kunitz's style was radically transformed from the highly intellectual and philosophical musings of his earlier work to more deeply personal yet disciplined narratives; moreover, his lines shifted from iambic pentameter to a freer prosody based on instinct and breath—usually resulting in shorter stressed lines of three or four beats.

Throughout the 70s and 80s, he became one of the most treasured and distinctive voices in American poetry. His collection Passing Through: The Later Poems won the National Book Award for Poetry in 1995. Kunitz received many other honors, including a National Medal of Arts, the Bollingen Prize for a lifetime achievement in poetry, the Robert Frost Medal, and Harvard's Centennial Medal. He served two terms as Consultant on Poetry for the Library of Congress (the precursor title to Poet Laureate), one term as Poet Laureate of the United States, and one term as the State Poet of New York. He founded the Fine Arts Work Center in Provincetown, Massachusetts, and Poets House in New York City. Kunitz also acted as a judge for the Yale Series of Younger Poets Competition.
Night Letter (Excerpt)
Violence shakes my dreams; I am so cold,
Chilled by the persecuting wind abroad,
The oratory of the rodent's tooth,
The slaughter of the blue-eyed open towns,
And principle disgraced, and art denied.
My dear, is it too late for peace, too late
For men to gather at the wells to drink
The sweet water; too late for fellowship
and laughter at the forge; too late for us