Stephanie Beyer
Stephanie Beyer
(march 5,1989 / a hospital)
Biography of Stephanie Beyer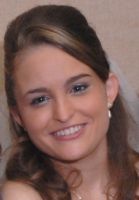 well I graduated highschool last in 2007. I was at monmouth college as an art major but I had an accident. i broke my arm in half and now i cant realy paint eanymore so now i am going to my community college getting a two year degree in criminal justice.
UPDATE: living at home for the year while my husband is in iraq, then we move to japan when he returns. taking on line courcses for Administrative medical assisting, while volunteering on the naval base as a financial caseworker at the NMCRS, also at the same time i am a full time florest

Stephanie Beyer's Works:

i wrote and illustrated a childrens book called ' The lost Puppy' but i dont think i will ever get it published.
Only The Rain
It is dark, and late.
I lay in my bed, unable to sleep.
My window is tightly shut, but
I can hear all the noise of the streets.
I try to put my mind at ease,
but fail because the noise on the streets is
unbearably loud.

Suddenly, there is a crash and a flash,