Stephen Dobyns
Biography of Stephen Dobyns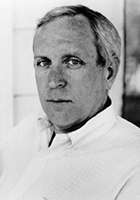 Stephen J. Dobyns (born February 19, 1941) is an American poet and novelist born in Orange, New Jersey, and residing in Westerly, RI.

Dobyns was born on February 19, 1941 in Orange, New Jersey to Lester L., an Episcopal minister, and Barbara Johnston Dobyns. Dobyns was raised in New Jersey, Michigan, Virginia, and Pennsylvania. He was educated at Shimer College, transferred to and graduated from Wayne State University in 1964, and received an MFA from the Iowa Writers' Workshop at the University of Iowa in 1967. He has worked as a reporter for the Detroit News.

He has taught at various academic institutions, including Sarah Lawrence College, the Warren Wilson College MFA Program for Writers, the University of Iowa, Syracuse University, and Boston University.

In 1995, as a professor of English at Syracuse University, he was involved in a sexual discrimination scandal. Francine Prose defended him by portraying his accuser and the school as having reacted to outdated neo-Victorian victim-feminism policies.
Loud Music
My stepdaughter and I circle round and round.
You see, I like the music loud, the speakers
throbbing, jam-packing the room with sound whether
Bach or rock and roll, the volume cranked up so
each bass notes is like a hand smacking the gut.
But my stepdaughter disagrees. She is four
and likes the music decorous, pitched below
her own voice-that tenuous projection of self.
With music blasting, she feels she disappears,