Stephen Dunn
Biography of Stephen Dunn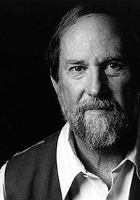 Stephen Dunn (born 1939) is an American poet. Dunn has written fifteen collections of poetry. He won the Pulitzer Prize for Poetry for his 2001 collection, Different Hours and has received an Academy Award in Literature from the American Academy of Arts and Letters. Among his other awards are three National Endowment for the Arts Creative Writing Fellowships, Guggenheim Fellowship, and Rockefeller Foundations Fellowship.

He was born in Forest Hills, Queens. Dunn completed his B.A. in English at Hofstra University and his M.A. in creative writing at Syracuse University. He has taught at Wichita State University, University of Washington, Columbia University, University of Michigan, Princeton University, and at the Richard Stockton College of New Jersey.

Dunn had earlier lived in Port Republic, New Jersey, and now spends time at homes in Ocean City, New Jersey, and his wife's hometown of Frostburg, Maryland.
Here And Now
for Barbara
There are words
I've had to save myself from,
like My Lord and Blessed Mother,
words I said and never meant,
though I admit a part of me misses
the ornamental stateliness
of High Mass, that smell