Stephen Sandy
Biography of Stephen Sandy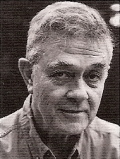 "The record: I was born in Minneapolis at Abbott Hospital near Loring Park on August 2, 1934....After a brief stint on active duty in the navy, I entered Yale College in the fall of 1951. I joined the NROTC; I left it by transferring to the AFROTC; I had grown passionate about my education and soon dropped AFROTC as well.

"I graduated with a B.A. in English in June 1955 and was drafted by the army on September 12, 1955....

"I studied German at Harvard Summer School and in September 1957 entered the Harvard Graduate School in English, earning an M.A. in 1959 and a Ph.D. in 1963. While a graduate student, I attended Robert Lowell's poetry workshop at Boston University; later I worked with Archibald MacLeish....In 1963 I joined the faculty as a full-time instructor in English. In 1967 I went to Japan as a Fulbright Lecturer at the University of Tokyo and returned a year later to a position on the English faculty of Brown University. Before going to Tokyo I had met Virginia Scoville in Cambridge. In 1969 we were married and we moved to Bennington, Vermont, where I would teach at Bennington College. A daughter, Clare, was born in 1976 when we lived in White Creek, New York, and a son, Nathaniel, in 1980.

"The days of learning as a pupil became days of learning as a teacher. It was my privilege to be part of that clan: colleague and thus—at Bennington—friend of many.

"In a long perspective, the situation does not matter, the telos only does, and that is the enduring trade. Think of a man in his study, surrounded by books, looking at them—like a cat with unfocused stare crouched under a peony bush—wondering whatever had they meant to him, things he once read, loved ones, loved things and days, and what he had been about. At the bottom of the garden of years, what is time? What matters but a few facts and loved ones held; or a mind, on the long frayed track of memory, running in the dark?"
Circular Drives
When I was a kid taken to the best end of the lake,
the raked gravel of someone's circular drive
—always rustling evenly under the tires

with a hushed crunch—served notice, served privilege;
distant, esteemed. Maybe an Ordway's place,
or the leaf-free drive and lawns of Southways,

long and green in shade near private waters