Stephen Yenser
Biography of Stephen Yenser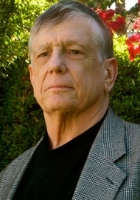 Stephen Yenser (born 1941 Wichita, Kansas) is an American poet and literary critic who has published two acclaimed volumes of verse, as well as books on James Merrill, Robert Lowell, and an assortment of contemporary poets. With J.D. McClatchy, he is co-literary executor of the James Merrill estate and co-editor of four volumes of Merrill's work.
Yenser graduated from the University of Wisconsin, studying with James Merrill in 1967 on one of the rare occasions when the poet taught. Merrill dedicated to Yenser his final, posthumous collection, A Scattering of Salts (1995).
Yenser is Professor of English and Director of Creative Writing at the University of California, Los Angeles,curating the Hammer Poetry Series at the Hammer Museum.
His work has appeared in Paris Review,Poetry, Southwest Review, Yale Review, "The New Yorker," and many other magazines. He lives in Los Angeles with his wife and daughter..
Wichita Triptych
Sometimes the rain shines
Just when the sun reigns,
And that was the way it is
Beyond those French doors
That late afternoon here
In this mind's early evening
Where they still fade in
That cool color Polaroid,
Pastel shades of her prom dress,