Subrahmanya Sai Ram Potukuchi
Subrahmanya Sai Ram Potukuchi
(15 SEP 1965 / Machilipatnam, A.P., India, settled at Puttaparthi, Anantapur Dist., A.P.)
Biography of Subrahmanya Sai Ram Potukuchi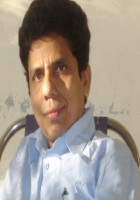 From the Age of 10, interested in composing poems and present in various functions. Received an award from Spandana Sahithi Samakyha, Machilipatnam as child poet from Sri Puvvada Thikkana Somayagi and Sri Nadella Purushothama Sastri in the year 1979. In the year 1986, Received 1st prize at 'Telugu Versification contest' conducted by the Hidnu College, Machilipatnam for Degree level students. The topic was 'United Nations and World Peace'. So mamy articles and poems on different topics on different occasions have been submitted but it was an unwritten registry. Settled at Puttaparthi, Anantapur Dist., A.P. since 1994 and working in Sri Sathya Sai Institute of Higher Learning, Prasanthinilayam Campus.
Where Is Sai?
When i was small, i asked Mom,
Who is God? Sai is God, says Mom;
Can I see God? again I pleaded,
See- Sai is giving darshan, says Mom;
When I joined school, I felt like playing on Mothers lap;
She gave me Gifts and read out my letters,
Spoke to me sweetly and sent sweet to school,
Her Love is that of thousand Mothers; So, Sai is God;
Now, where is Sai? Where can I see?