Sudama Panday
Biography of Sudama Panday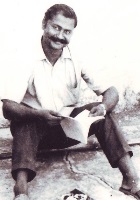 Sudama Pandey "Dhoomil" (सुदामा पांडेय 'धूमिल'), most commonly called Dhoomil, was a renowned Hindi poet from Varanasi, who is known for his revolutionary writings and his "protest-poetry", along with Muktibodh.

Known as the angry young man of Hindi poetry due to his rebellious writings, during his lifetime, he published just one collection of poems, Samsad se Sarak Tak, संसद से सड़क तक (From the Parliament to the Street), but another collection of his work, entitled Kal Sunna Mujhe कल सुनना मुझे was released posthumously, which in 1979, went on to win the Sahitya Akademi Award in Hindi.

Sudama Panday "Dhoomil" was born on November 9, 1936 in Khewali, Varanasi district, Uttar Pradesh. After successfully passing out to tenth standard, he joined the Industrial training institute (ITI), Varanasi, where he passed out with a Diploma in Electricals, and later he joined the same institution, as an instructor in the Electricals Department.

He died on February 10, 1975, at the young age of 38 years.
In 2006 the Bharatiya Janata Party (BJP), a rightwing political party, raised an objection in the Indian parliament over the inclusion of one his radical poems, "Mochiram", in the NCERT Hindi textbooks, which, subsequently, was replaced by one of his other poems – "Ghar Main Wapsi".
The last book of Dhoomil, Sudama Pandey Ka Prajatantra, was published by his son Ratnashankar Pandey.
The Taste Of Iron
Look how words
are styled into a poem
Look at this
Read this man fallen amid letters.
You hear that?
Is it the clanging of iron or
the blood spilled on the soil?
Ask not the blacksmith
the taste of iron,
Ask the horse with a leash on his mouth