Sudeep Sen
Sudeep Sen
(1964 - / New Delhi / India)
Biography of Sudeep Sen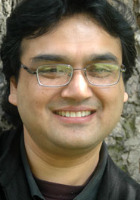 Sudeep Sen is an Indian poet and editor living in London and New Delhi.

Life and Work

Sen studied at St Columba's School and read literature at Hindu College Delhi University. As an Inlaks Scholar, he received a master's degree from the Graduate School of Journalism at Columbia University in New York. Sen was an international poet-in-residence at the Scottish Poetry Library in Edinburgh, and a visiting scholar at Harvard University.

His books include Postcards from Bangladesh, Prayer Flag, Distracted Geographies, and Rain. He has edited anthologies including: The HarperCollins Book of English Poetry by Indians (2011), World Literature Today Writing from Modern India (2010),The Literary Review Indian Poetry (2009) and Midnight's Grandchildren: Post-Independence English Poetry from India (2004). His work appears in anthologies such as Indian Love Poems (2005), New Writing 15 (2007), Language for a New Century: Contemporary Poetry from the Middle East, Asia and Beyond (2008) and Initiate: An Anthology of New Oxford Writing (2010). Sen has been translated into several languages including Arabic, Bengali, Czech, Finnish, French, German, Greek, Hebrew, Hindi, Hungarian, Italian, Korean, Macedonian, Malayalam, Persian, Romanian, Slovenian, Spanish, Swedish, and Turkish.[1] Sen's writings have appeared in newspapers, magazines, journals, and broadcast on radio and television. They include: the Times Literary Supplement, The Guardian, The Independent, The Financial Times, Poetry Review, Literary Review and the Harvard Review. He has broadcast on BBC World (TV), BBC Radio, PBS, Radio Tehran and Radio Jerusalem. He has written, edited & translated over 30 books and chapbooks.

Sen has received a Hawthornden Fellowship (UK) and was nominated for a Pushcart Prize (US) for poems included in Postmarked India: New & Selected Poems (HarperCollins). He won an A. K. Ramanujan Translation Award.

Sen has directed or co-directed several short films and documentaries, including Rhythm, White Shoe Story, Woman of a Thousand Fires, Babylon is Dying: Diary of Third Street (nominated for a student Emmy Award), and Flying Home.

Sen is the member of The Plimpton Circle of The Paris Review, curator of the 'World Poetry Portfolio' series for Molossus, and serves on the editorial boards of The Literary Review, International Literary Quarterly, Orient Express and New Quest. In 2008 he was appointed director of the Delhi International Literary Festival. In 2010, he was the first foreign co-judge for the Arvon Foundation International Poetry Competition. He is the editorial director of Aark Arts publishers and editor of Atlas.

Sudeep Sen's Works:

Poetry
Leaning Against the Lamp-Post [1983/1996 Triad/University of South Carolina]
The Lunar Visitations [1990 New York: White Swan Books / 1991 New Delhi: Rupa]
Kali in Ottava Rima [1992 London: Paramount / 1995 Rupa (including New York Times) ]
New York Times [1993 London: The Many Press / 1995 Rupa, (including Kali in Ottava Rima) ]
Parallel [1993 The Scottish Poetry Library, Edinburgh / Compact Disc/Audio Cassette]
South African Woodcut [1994 White Swan Books / Leeds: Peepal Tree Books]
Mount Vesuvius in Eight Frames [1994 White Swan Books / Peepal Tree Books]
Dali's Twisted Hands [1995 White Swan Books / Peepal Tree Books]
Postmarked India: New & Selected Poems [1997 HarperCollins]
Retracing American Contours [1999 University of South Carolina]
In Another Tongue [2000 University of South Carolina / Translations]
Almanac [2000 University of South Carolina]
Lines of Desrire [2000 University of South Carolina]
A Blank Letter [2000 Dhaka: Indian High Commission / Bi-lingual English-Bengali edition]
Perpetual Diary [2001 London: Aark Arts]
Monsoon [2002 Aark Arts, London. re-issued in 2005 as Rain
Prayer Flag [2003 USA: Wings Press, USA / UK: Peepal Tree / CD of poetry & photography with music]
Distracted Geography: An Archipelago of Intent [2003 USA: Wings Press,2004 UK: Peepal Tree, UK, New Delhi: Indialog]
Rain [2005 Gallerie & Mapin India /Grantha, USA]

Prose
Postcards from Bangladesh [2002 (with Tanvir Fattah and Kelley Lynch) , Dhaka: University Press Limited]
BodyText (New & Selected Fiction: forthcoming)
Tracing Lines: Selected Prose (Essays & Criticism: forthcoming)

Editor / Co-Editor / Translator
1995 Wasafiri Contemporary Writing from India, South Asia & The Diaspora, Wasafiri, Queen Mary & Westfield College, University of London.
1996 Lines Review Twelve Modern Young Indian Poets.
1998 Index for Censorship [Poems] Songs of Partition; London: Index for Censorship
2001 Love & Other Poems by Aminur Rahman; London: Aark Arts.
2001 Hayat Saif: Selected Poems; Dhaka: Pathak Samabesh.
2001 The British Council Book of Emerging English Poets from Bangladesh; Dhaka: The British Council.
2001—present: Six Seasons Review; Dhaka: University Press Limited.
2003 Spellbound & Other Poems by Fazal Shahabuddin; London: Aark Arts
2004 Midnight's Grandchildren: Post-Independence English Poetry from India; Struga Poetry Evenings, Macedonia [in Macedonian translation]
2005 Love Poems by Shamshur Rahman & Sudeep Sen.
2006 Biblio South Asian English Poetry; New Delhi: Biblio
2006 Atlas 01: New Writing, Art & Image ; London: Aark Arts & India: Crossword.
2007 Atlas 02: New Writing, Art & Image; London: Aark Arts & India: Crossword.
2007 Modern English Poetry from Bangladesh; Dhaka: University Press Limited [forthcoming]
2007 English Poetry from India [forthcoming];

Books / Chapbooks In Translation
Ekti Khali Chithi [Bengali / trans. Aminur Rahman]
Barsha [Bengali / trans. Aminur Rahman]
Prarthana Pataka [Bengali / trans. Aminur Rahman]
La Sencilla Malta / The Single Malt [Spanish / trans. Raul Jaime]
Lluvia/Rain [Spanish / trans. M Dolores Herrero]
Remembering Hiroshima Tonight [Greek / trans. Kariofilis Mitsakis]
BodyText [Hebrew / trans. Dan Daor]
Lines of Desire [Hebrew / trans. Amir Or]
Lines of Desire [Romanian / trans. Curtea d Arges]
Lines of Desire & Other Poems [Korean / trans. Kim Ku Sul & Park Hae Won]
Prayer Flag [Hungarian / trans. Domokos Johanna]
Alexander's Soil: Selected Poems [Macedonian / trans. Zoran Anchevski]
Sudeep Sen ki Kavitaye [Hindi / trans. Anamika / work-in-progress]

Film by Sudeep Sen
Directed and co-directed several short films and documentaries, some include: Rhythm, White Shoe Story, Woman of a Thousand Fires, Babylon is Dying: Diary of Third Street, among others.

Stage Show / Theatre / Radio Play By Suddep Sen
ØMount Vesuvius in Eight Frames ([RADIO PLAY] BBC Radio UK/ Poetry by Sudeep Sen
ØVesuvius ([STAGE PLAY] Nehru Centre of the Indian High Commission, London / Poetry by Sudeep Sen
ØBodyText ([STAGE PLAY] Harrow Arts Council, UK / Written by by Sudeep Sen
ØFlying Home ([FILM] Produced by Border Crossing & Arts Council, UK/ Poetry by Sudeep Sen
ØMidnight's Grandchildren: Contemporary Indian Poetry in English ([STAGE SHOW] Struga Poetry Evening (an international poetry festival) , Macedonia / Directed by Sudeep Sen)
ØTexture Tone Topography: Poetry & Jazz ([STAGE SHOW] India International Centre, New Delhi / Poetry by Sudeep Sen / Cast: Tom Alter, Rajeev Raja, Sudeep Sen)
ØRain ([STAGE SHOW] National tour — (The British Council, Delhi) , (Times of India Kala Ghoda Arts Festival, Bombay) , Darpana Arts Academy/Natarani, Ahmedabad) , & forthcoming in Calcutta, Madras, Bangalore, Hyderabad, Pune / Written by Sudeep Sen / Cast: Tom Alter & Sudeep Sen + musicians)
ØT3 & Woman ([STAGE SHOW] The Attic, New Delhi / Poetry & Fiction by Sudeep Sen / Music by Srinibas, Dance by Moumita Ghosh, Dramatic Enactment by Averee Chaurey, Songs by Jayati Ghosh
ØJ3: Jibanananda Jazz Jugalbandi ([STAGE SHOW] IAS Officers Club, Hyderabad / Poetry by Sudeep Sen & Hoshang Merchant / Music by Charminar Jazz Collective
Ø[Wo]man ([STAGE SHOW] India International Centre National Festival of the Arts, New Delhi / Poetry & Fiction by Sudeep Sen / Vocals by Vidya Rao / Flute by Srinibas / Dance by Moumita Ghosh / Bengali reading by Averee Chaurey

This page is based on the copyrighted Wikipedia Sudeep Sen; it is used under the Creative Commons Attribution-ShareAlike 3.0 Unported License. You may redistribute it, verbatim or modified, providing that you comply with the terms of the CC-BY-SA.
Flying Home
I meticulously stitch time through the embroidered sky,
through its unpredictable lumps and hollows. I

am going home once again from another
home, escaping the weave of reality into another

one, one that gently reminds and stalls
to confirm: my body is the step-son of my soul.