Susan Vannatta
Biography of Susan Vannatta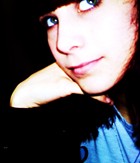 HI.
My name is Susan, I'm 16 and I am an aspiring poet and writer.
I've been writing poems since I was about 11, and I've recently taken it down a more serious road.
I'm planning on publishing my first poem book soon, just a collection of my most favourites, and I just began writing my first novel.
I have high hopes and dreams for my writings, I would love for them to inspire people and relate to them.
I plan on being a teacher, hopefully to a high school Creative Writing or English class.
If there is anything else you would like to know about me, don't hesitate to message.

Thanks for taking the time to read this, and please try to read a couple of my poems and tell me what you think.

-Susan

Susan Vannatta's Works:

Nothing yet, but I hope to be there soon.
Drink, Inhale, Dream
I watch as you sip
your drink filled with
pleasure and death, and
I wish I could be
your Alcohol. I wish
I could be that poison,
resting on your lips and
washing away your worries.
I want to be your