Sushil Kumar Tripathy
Sushil Kumar Tripathy
(11th November 1963 / Odisha State in INDIA)
Biography of Sushil Kumar Tripathy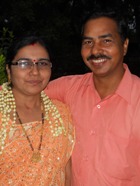 Passed High School Certificate from Baunsuni High School, Graduation in Rajendra College Bolangir, M.Sc.in Botany with Forestry Profession in
Forest Department, Govt. of Odisha in State of Odisha, INDIA.

Sushil Kumar Tripathy's Works:

Manisha (Human beings in Oriya language) , So many poems, Critics, stories published in Magazines.
Dark Thoughts
As you sow so you reap
It was thought of the past
But now,
Don't sow, reap and reap
With the cost of others
Don't share your feelings to others
Just throw your wills on them
And harvest at any cost
Then you will be the great man
This will be the thought of men
For future days.