Sutapa Chaudhuri
Biography of Sutapa Chaudhuri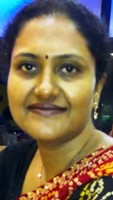 Born in Kolkata, India,1970, Sutapa Chaudhuri, a PhD in English Literature, is a bilingual poet and a versatile creative writer writing in both Bengali and English. A scholar, a critic, a translator, and an academic, Dr. Chaudhuri has several publications, critical and creative, in a number of reputed literary journals, magazines and books to her credit. She has written many travelogues and essays for children too. Dr. Chaudhuri has lived significant parts of her life in the U.S.A and Japan; and spent 10 long years in Gujarat in western India, a place she considers as her second home. She is currently an Assistant Professor in English, at a College. She lives in south Kolkata with her parents, her teenage daughter and her scientist husband.

Sutapa Chaudhuri's Works:

Among her significant publications, Dr. Sutapa Chaudhuri has edited Virginia Woolf's feminist essay A Room of One's Own (2009): Shifting Identities: Constructions and Re-constructions of the Feminine in Indian Literatures, an anthology of critical essays, (2011) and authored Re-reading the Poems of Christina Rossetti(2011) .
Broken Rhapsodies (2011) is her first book of poems.
The Call
I can call anybody now.
All have their numbers listed.
Phonebooks also at easy access.
But there's no one to call.
Somehow I'm still searching
lost in a maze
the jungle of names
too easy perhaps.
Even without a reading glass