sweet girl
sweet girl
(Canada)
Biography of sweet girl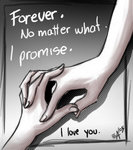 Hey! I'm a simple girl living in Canada! I have an HUGE intrest in music. You know like Chris Brown, Mario, Rihanna, and Ray J. Anyways thats only some.

Also, I love expressing myself through poetry. Although, most of my friends think that my poetry is too wierd. They hate all those love poems I make. So, I figured, this is the best way to express myself without my best buddies nagging me all the time. And I won't get hurt by the people who I don't know, commenting saying that its bad.

Sorta like a win-win situation

Anyways thats me, well, part of me. Outside, I may seem confident, but I'm not. I'm WAY too shy to do those COOL stuff, but if I'm dared to, like DUH I will. I never back down to those things and I'm a real dare devil inside. They all know that!

Since I'm a girl who you might be intrested in, I'm taken. I don't plan on moving anywhere with my heart.

Love to all the fellow Poets everywhere! *wink*

sweet girl's Works:

731976338
Eachother
For all the times we've been alone together,
The feeling was simple, but I wish it'd be forever.
The desire to be in your arms, to feel protected,
Not to be abused or having my heart rejected.

People could see our feelings, like the sun in the sky.
I denied it, for what would happen if I didn't lie?
I'd be broken if everyone knew,
Everything would be out about me and you.