Sydney Smith
Biography of Sydney Smith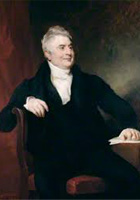 Sydney Smith (3 June 1771 – 22 February 1845) was an English wit, writer and Anglican cleric.

Born in Woodford, Essex, England, Smith was the son of merchant Robert Smith (1739–1827) and Maria Olier (1750–1801), who suffered from epilepsy. His father, described as "a man of restless ingenuity and activity", "very clever, odd by nature, but still more odd by design", owned, at various times, 19 different estates in England.

Smith himself attributed much of his own lively personality to his French blood, his maternal grandfather having been a French Protestant refugee named Olier. He was the second of four brothers and one sister, all remarkable for their talents. Two of the brothers, Robert Percy (known as "Bobus") and Cecil, were sent to Eton, but he was sent with the youngest to Winchester College, where he rose to be captain of the school. He and his brother so distinguished themselves that their school-fellows signed a round-robin "refusing to try for the college prizes if the Smiths were allowed to contend for them any more".

In 1789, Smith became a scholar of New College, Oxford; he received a fellowship after two years' residence, took his degree in 1792 and obtained his Master of Arts degree in 1796. He planned to read for the bar, but his father disagreed and he was reluctantly compelled to take holy orders. He was ordained at Oxford in 1796 and became curate of the village of Netheravon, near Amesbury in Salisbury Plain. Smith did much for the inhabitants; providing the means for the rudiments of education and thus making better things possible. The squire of the parish, Michael Hicks-Beach, invited the new curate to dine and thrilled to find such a man there engaged him as tutor to his eldest son. It was arranged that they should go to the University of Weimar in Germany, but war prevented them and "in stress of politics" said Smith, "we put into Edinburgh" in 1798. While his pupil attended lectures, Smith studied moral philosophy under Dugald Stewart as well as medicine and chemistry. He also preached in the Episcopal chapel, attracting large audiences.

In 1800, Smith published his first book, Six Sermons, preached in Charlotte Street Chapel, Edinburgh, and in the same year, married, against the wishes of her friends, Catharine Amelia Pybus. They settled at 46 George Street, Edinburgh, where Smith made numerous friends, among them the future Edinburgh Reviewers. Towards the end of his five years' residence in Edinburgh, in a house in Buccleuch Place, the elevated residence of the then Mr Jeffrey, Smith proposed the setting up of a review. "I was appointed editor," he says in the preface to the collection of his contributions, "and remained long enough in Edinburgh to edit the first number (October 1802) of the Edinburgh Review. The motto I proposed for the Review was Tenui musam meditamur avena.--'We cultivate literature on a little oatmeal.' But this was too near the truth to be admitted, and so we took our present grave motto from Publius Syrus, of whom, none of us, I am sure, had ever read a single line." He continued to write for the Review for the next quarter of a century, and his brilliant articles were a main element in its success.