Biography of Sylvia Frances Chan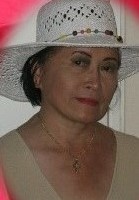 Sylvia Frances Chan is a Dutch Poetess.
She writes poems in 7 languages. She is able to talk in these languages. Which? Dutch, Indonesian, English, French, German, Malay and Jakarta Dialect.

Sylvia Frances Chan, born in Jakarta, Indonesia studied the English Language-and-Literature at the Ureca University, now the Trisakti University, Jakarta. At The Leyden University for the same subject and at the Katholieke University of Nijmegen
for women studies.

She resides eversince in the Netherlands.

Her BIO:
Married to a Urologist a medical specialist in surgery, they have 3 sons. She is a lecturer for students, who face their exams, evangelist on Web sites, online and through iPhone, never in churches. She lives in Leyden, Haarlem and she has moved to the lovely town D. and she resides there ever since. updated on a palindrome date 02-02 2020 - Sunday

Her LANGUAGES:
Dutch is her mother tongue, Indonesian is her second language. English is her third language in the row. French and German language as her fourth and fifth language, Malay and Jakarta Dialect as the last two.

She writes essays, poems, short novels, her travels.
She paints, draws, and make card designs online for her own poems. Not for the trade.
She plays chess, tennis, amateur car-racing Dallas. Zandvoort, BIG balloons San Diego, traveling. She organizes tennis Annual Competitions.
She love skiing Serfaus.
She loves to listen to classical music, opera, pop, R&B, reading.
She does many painting exhibitions in and over the country.

15 years old, her first group paintings-exhibitions. She was the youngest exposant in the Balai Budaya - Jakarta, Indonesia. She won several first prizes at the age of 11 and 12 years and in Chess-competitions, but there were no prizes for girls available. The Org. thought that girls would never win, but she won and accepted that first prize, though, for a boy, she thought she was the winner, the champion amongst boys and girls. The Org. Committee announced that they had no prize for a girl, nevertheless she wished to receive her first prize in this mixed competition.

Now this: she won the first prize in an amateur golf tournament, but this time she got a most beautiful and expensive prize. Different than with a tennis tournament, the golf tournament for amateurs was always for both sexes together. So she won the cup and the male player became the runner-up. That was the Yamanouchi Tournament for Amateurs.

She won a BMW racing for amateurs in Dallas, Texas USA. She was the fastest among men and women.

In tennis-competitions, she won many first prizes in the ladies single and ladies double. Her tennis team was constantly in the Top Ranking. Many champion cups filled her cupboard at home. She won the mixed too with her eldest son. Her spouse said that IF she did not go studying, she had won several Grand Slams like Wimbledon, Australian Open, US Open and Roland Garros.

About her creating poems. When she is creating, she does that with a humming tune and that's why there is always a smooth flow in almost all her poems, you can hum in that poem too.

ADDITION: in the first person:
According to my beloved Mum at times when I was really behaving obstructive, she said then: Pipi, do you know that the day you were born, you did not come out, it was truly the most difficult birth, but I felt you inside kicking all the time, but you could not go out at that moment and I had only the baker-woman to help me. The whole week was filled with rainy nights, not cold, but chilly to the bones, finally, I birthed you, I was alone with the baker. I was really exhausted. I have understood all my life that giving birth to a baby in these circumstances are saddest. My Mum showed her strength: " Your dad was away for an uncertain time because he had been working at MGM office, but there was no suitable job to find, greatest blessings God's, he had the job" .

Finally, he got that super mighty job at Stanvac office Jakarta the Head Office in the USA, we were very happy that he got that excellent job as the Manager of Stanvac in Jakarta Gambir, at the Medan Merdeka Selatan 18. Now it has got an Indonesian name, Pertamina.

My Mum continued about my Birth: " But no one of the in-laws came to visit you at your Birth while for your Bro, who was born in the year of the Golden Dragon, full Moon and that was in May, warm not too hot and cozy weather, Dad's parents came and look victoriously happy: First Grandson: a Boy! Feast! Celebrations!

Because of the great love betwixt mother and daughter, I always accepted this story from her,
she could go on and on, but oddly enough, that belongs to my life as her daughter.

War trauma caused my beloved Mum still kept repeating the War experience what I have never known, she became a weak person with phobies.
My dear Daddy always understood her and so are we as her children, my genius bro and I. We all love her during her lifetime. Before that war- trauma, she was a strong and healthy lady, independent and married very happy with my dearest Daddy.

After having that Post-War Trauma, it felt as if she was clinging to me. In these times she was very dependent to me. I helped her with greatest love,
I learned to understand her, after all she is my beloved Mum. My genius bro is the only son and I am the only daughter. No more siblings. My spouse has 8 siblings, altogether 9, they never knew the eldest, the first born, a daughter, she died when 9 months old.
Because of her war trauma, she planned me on a later age. This is certainly the explanation for the difficult birth of me. My Mum oft became very sad as I was not behaving correctly. As a post-war traumatist, she could become saddest very quick.

You must not be as rebellious as the kids from bad parents, she told me. I asked her: " How do YOU know Mummy, that they are " bad" parents? So they might think too that you are bad.... She became very sad then and I stopped talking like that to her.

P.S. My feet remind her of the Ghurkas, she said many times to me, to be able to fight in the open air because they were very strong. I have never known HOW Ghurkas look like, I have never tried to open that Google-page to know, I had no need to do that if she said so, I believed her. The Ghurkas came to Indonesia to help the Indonesians as soldiers, but they were tall, huge and very strong.
Indonesians are small and not so strong, but very keen in thinking how to win. My Mum said they came from India. That was long before my birth. Because of this war, she got sick mentally.

She has traveled all over the globe, to the U.S.A. and visited many many states there. She had been to Canada too and had seen one of the many many God's
great Wonders: The Niagara Falls. Seattle, New York and many more supercities she visited to promote her poetry. God has given her a super Parents a genius bro and a super husband. Proud and grateful what God has given her in her young life still a teen, and had traveled already a very lot

The BMW has still winter tyres. Next May, these tyres must be changed again with summer tyres.
UPDATED on the palindrome date SUNDAY 02-02-2020.

Sylvia Frances Chan's Works:

Red and Green are her favourite colours. As in the NL ecology Green still is the trend. She prefers the green of Golden Delicious apples, fresh bright green. She alo uses that colour in her paintings on linen canvas.

She and her fellow countrymen always had a good feel for all green her government suggested. She attended many readings about this important subject.
She developed the greatest feel for her intuitions due to her beloved Mother and her intuitions about that green innocent landscape.

She quarreled with Shell, that oil company about the Green Fluid and she opposed Shell since this company would gain myriad profits, she changed Shell´s attitude. BUT the latest news heard: Shell is again only on making profits upon dead bodies and must pay a very high fine. The dirty fluid that is costantly surrounding nature. Shell could work cleaner and with honesty, but this kind of production would cause Shell more money and budget.

Now, this case is not finished yet. Again shame on Shell.
Mind you, how many years ago that was and Shell only promised, keep promising but never made that a reality. Shell thought only to calm governments but never did something for the good and healthy future of mankind's surrounds. Shell is only enriching itself and making the environment dirtier globally, very known to us worldwide, that occurrence in Nigeria.Such a greatest dirt and poison.

Publications:
By Mrs. Judy Lynn, Chief Editor, L.A. Cal-USA. Who's Who in Poetry International - by Judy Lynn Nov.2012

In many Poem Sites, Web-Sites, Weblogs and in Journals and in Magazines, her poems are published all over the world.

Another Poetry Book is published May 2015 by Xlibris in the UK, also available as Poetry Book and EBook. Titled: " Emeralds Green" .
Her poems are on many poetry sites. She is a member of FB, but no family with Mrs. Chan-Z. The épousse of Mark Z., the owner of FB. Only the same surname.

Nowadays almost all Poem Sites are to find in FB.
She writes in many poem sites up there on Facebook.
She has her own WeBlog too in FB.

You can read her poems in Medium, Spill Words, LiteraryYard, Cora, Selamat Datang Kesini, The Magazine/Journal of the WildLife of Nepal, and so many more e-Zines and Journals.

On Poem sites as Poemhunter, HelloPoetry, Poetry.Com, Poetfreak.Com, and many own Weblogs. Updated on the palindrome date 02-02-2020.
Sylvia Frances Chan Poems
My Simple Words....
This is not a poem, but a prayer
for my best friend who is in deep shattered sorrow....

My best friend
i assure you

be strong and courageous

be strong and don't be afraid