Tapan Bagchi
Biography of Tapan Bagchi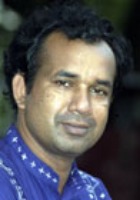 Tapan Bagchi is a poet, rhyme composer, researcher, and journalist based in Dhaka, Bangladesh. Tapan Bagchi is a major poet of his times in the Bengali language.

His mother Jyotirmoyee Bagchi is a housewife and his father Tustocharan Bagchi was graduated from the University of Dhaka and served the nation as a gazetted officer. Bagchi's wife Keya Bala is a member of BCS (general education) cadre service. They are the parents of Tuneer Bagchi and Dwitiya Bagchi Chhuti. Poet Tapan Bagchi has four books of poems. He has written almost 32 books in various issues. These are published from the prominent publishing house of Bangladesh such as Bangla Academy, Nazrul Institute, MMC, BCDJC etc.

Education

Poet Tapan Bagchi studied in Kadambari High School- Madaripur, Govt Rajendra College-Faridpur and Dhaka University. He has an MA degree in Mass Communication and Journalism from the University of Dhaka. He earned his PhD degree in Traditional Communication by doing research under the supervision of renowned Lalon-researcher Professor Dr. Abul Ahsan Chowdhury and Poet Dr. Mohammad Moniruzzaman.

Profession

Dr Tapan Bagchi is a Research Scholar by Profession. He is now working as a Deputy Director in the Department of Research Compilation & Folklore of Bangla Academy. He worked at World Literature Centre, MassLine Media centre, Bangladesh Rice Research Institute (BRRI), Bangladesh Press Institute (PIB), The daily Amader Shomoy, Other Vision Communication (OVC), The Weekly 2000, Ekushey Television and The daily Prothom Alo.

Awards

Munir Chowdhury Literary Award, Dhaka, 1991
Jasimuddin Literary Award, Faridpur, 1996
Fortnightly Muksudpur Sambad Reception, 2007
Mahadiganta Literary Award, Kolkata, India, 2008
Zemcon Literary Award, Dhaka, 2008
JatraSamrat Amlendu Biswas Memorial Award. Dhaka, 2008
Surhid Parshad Education Award, Madaripur, 2008
M Nurul Quader Juvenile Literature Award, Dhaka, 2008
Sunil Gangopadhya Literature Award, Madaripur, 2oo8

Tapan Bagchi's Works:

Books on Mass Communication & Journalism

Bismritopraya Bangla Samoikpatra (Collection on articles on Benagli Periodicals), Suchipatra Prokashani, Dhaka, 2004
Trinomul Sangbadikotar Unmesh O Bikash (Origin and Development of Grassroots Journalism), MMC, Dhaka, 2000
Nirbachon Saangbadikata (Reporting Techniques on Election Issues), BCDJC, Dhaka, 2001

Books on Research

Dhaka Mahanagorir Bonya Ashrayakendra (A survey on Flood-shelters in Dhaka City in 1998), MMC, Dhaka, 1999

Books on Literary Research

Rudra Muhammad Shahidulla: Chandrahata Aviman (Criticism of Rudra's Poems), Chitra Prokasani, Dhaka, 2002, Research
Sahityer Saamprotik Path (Study on Recent Literature), Proteeti Publication, Dhaka, 2001
Biplab Dus (Biography of a Writer), Bangla Academy, Dhaka, 2001
Kazi Nazruler Kabitay Shabdalanker (The Science of Rhetoric in Nazrul's poems), Nazrul Institute, Dhaka, 2001
Rudra Muhammad Shahidullah (Biography of a Poet), Bangla Academy, Dhaka, 1998

Books on Poems

Sakol Nadir nam Ganga Chhilo (A collection of poems), Bishaka Prokashoni, Dhaka, 2007
Antohin Kshater Gavire (A collection of poems), Bishaka Prokashoni, Dhaka, 2005
Shmashaneyi Shuni Shankhodhwani (A collection of Poems), Young Writer Project, Bangla Academy, Dhaka, 1996
Ketokir Proti Pakshopat (A collection of Poems), Bishaka Prokashani, Dhaka, 1996

Books Juvenile Literature

Charkaburi Oray Ghuri (A collection of Juvenile Poems), Bishaka Prokashani, Dhaka, 1995
Rukhe Danrai Borgi Tarai (A collection of Rhymes), Karnofulir Desh Prokashani, Chittagonj, 1994
Shuvor Shakher Goendagiri, Jyotsna Publishers, Dhaka, 1993, Juvenile stories
Ekusher Notun Kovita (New poems on mother language movement), Shahityamala, Dhaka, 1992, Collection of Poems

Research Consultancy

Study on Media Laws and Policies for the Middle East and Maghreb (Bangladesh Part) (2002) funded by the Stanhope Centre for Communications Policy Research, London, UK
The Life and life Style of the Bangladeshi Folk Theatre Artists (2003) funded by Research Initiatives of Bangladesh (RIB), Dhaka.
This page is based on the copyrighted Wikipedia Tapan Bagchi; it is used under the Creative Commons Attribution-ShareAlike 3.0 Unported License. You may redistribute it, verbatim or modified, providing that you comply with the terms of the CC-BY-SA.