Tar Cari
Tar Cari
(10/28/1968 / canada)
Biography of Tar Cari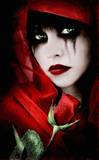 welcome to 2012

it's been one year for me, since being my self, that i set my talent on course.
twenty plus years, not a word i wrote, not a single scribbly note.

two choices before me, writting and family, both equal in importance and needing my time.
consuming of time and dear they both were, undivided my time was, also a steered my course.

so divided i made it, with a sorta blind agenda, sharing my life separate.
first one now the other, still there for them all, i'm sure they won't mind sharing my life.

rusty at times sure, smiling quietly i feel even, a little seemingly unwise.
though i must seek, writing my passion, feelings i cannot cage like a repression.

i saw through the first, i cannot fail two, see it through i must.
even if claims my soul, consuming me whole, i am following it up with number two.