Tavneet Singh
Tavneet Singh
(06/03/1987 / INDIA (Kanpur))
Biography of Tavneet Singh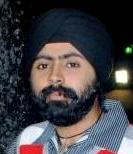 I am not a poet, its just that sometimes when I am alone, I jot down what I feel... ;)
Sharab.. (In Hindi)
Yun to mein peeta nai hun,
Par iska matlab yeh to nai ki mein jeeta nai hun….
Jennae k mere alag mainae hai,
Kyonki har taraf mere aainae hai,

Har aaina mujhe kuch yaad dilata hai,
Aur jeenae ka maksad dikhata hai.
Shayad issiliye mein pitta nai hun,
Aur logo k hisab se jeeta nai hun.