Terrance Hayes
Biography of Terrance Hayes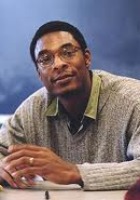 Terrance Hayes (born November 18, 1971) is an American poet and educator who has published four poetry collections. His 2010 collection, Lighthead, won the National Book Award for Poetry in 2010.

Hayes was born in Columbia, South Carolina.

He received a B.A. from Coker College and an M.F.A. from the University of Pittsburgh writing program. He was a Professor of Creative Writing at Carnegie Mellon University until 2013, at which time he joined the faculty at the English Department at the University of Pittsburgh.

He lives in Pittsburgh with his wife, the poet Yona Harvey, who also serves as a professor at the University of Pittsburgh, and their children.

Hayes first book of poetry, Muscular Music (1999), won both the Whiting Writers Award and the Kate Tufts Discovery Award. His second collection, Hip Logic (2002), won the National Poetry Series, was a finalist for the Los Angeles Times Book Award, and runner-up for the James Laughlin Award from the Academy of American Poets. He won the National Book Award for Lighthead.

Hayes poems have appeared in literary journals and magazines including The New Yorker, The American Poetry Review, Ploughshares, Fence, The Kenyon Review, Jubilat Harvard Review, West Branch, and Poetry.

In praising Hayes's work, Cornelius Eady has said: "First you'll marvel at his skill, his near-perfect pitch, his disarming humor, his brilliant turns of phrase. Then you'll notice the grace, the tenderness, the unblinking truth-telling just beneath his lines, the open and generous way he takes in our world."
For Crying Out Loud
And I understand well now, it is beautiful
to be dumb: my tyrannical inclinations, my love
for the prodigal jocks aging from primetime
to pastime, the pixilated plain people and colored folk

with homemade signs. Cutouts, cutups, ambushes,
bushwackers. The clouds are overwhelmed
and vainglorious. MC Mnemosyne showed up